Necklaces are available not only in different materials and patterns, but also in different lengths. Many of us think that the length of necklace is only a matter of personal choice, but in reality, it is only the right length of necklace that can make one look best.
Have you ever considered why some of the neckpieces are just lying idle in your wardrobe and you hardly ever opt to pick them while going out? Most expectedly those necklaces are not of the right length to suit you. Here is a brief discussion that can help you to pick the right necklace length.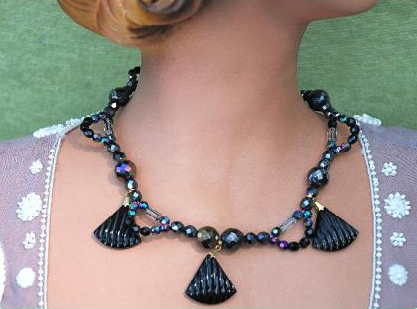 Consider your neck and body features
You should pick a necklace considering a few features of your neck. If you have a long and thin neck, you can opt for more or less every length of neck pieces, starting from a choker pearl necklace to a matinee or rope, but if you have short and wide neck a choker will make your neck appear stubby and hence it is a strict no. There are some great looking necklace patterns for you to check but before buying one make sure that it gets along perfectly with your dress's neckline.
A matinee that ends between the collarbone and the bust will rather suit a short and wide neck much better, and will make it appear longer and thinner. For full-figured and short women considering the length of the torso and the bust is also important for choosing the right length of the necklace. For shorter women, opting for a necklace length that sits on the collar bone or just below it is a best fit. This would not only enhance the overall look but would also hideout any kind of shortcomings that you may have.
The shape of your face and the dress to be worn is also vital
The shape of your face should be the other consideration to pick the right length of necklace for you. More or less any length of necklace goes with the oval face shape; but for the round faces a necklace that makes a "V" with the neck will look even better. In case you are looking to bring out a formal look, you need to go with simple yet elegant pearl jewelry design that is not too chunky.
The chokers does not go well with the round face shapes, whereas for long faces and heart shaped faces a choker can look best if that matches with the shape and size of the neck and the whole body. The neck pattern and the length of the dress to be worn with a necklace also need to be considered for choosing the right necklace length.