Fine rugs and carpets need to be treated well to get the best out of them. Learn how to prevent them from being spoiled and how to treat stains that do occur.
Specialist rugs and fine carpets are different from standard carpeting as they are made from delicate fibres that are high quality yet get damaged easily. This means that it is essential that owners look after them with care in order to get the best out of their purchases and ensure that they last for years to come.
Preventative Maintenance
The best way to care for fine rugs and carpets is to prevent them from getting spoiled in the first place. Where possible, remove your shoes when walking across your delicate carpeting. Bare feet or socks will not tread as much dirt into the fibres of your rugs or carpet as heavy-soled shoes that have picked up grime from outside.
Check To See If Your Rug Needs Cleaning
If your rug has managed to remain stain-free but you're wondering if it could benefit from a clean, then try this simple test. Turn over the corner of the rug and quickly flick it back into place. If a cloud of dust comes off it, then it's time to clean your rug.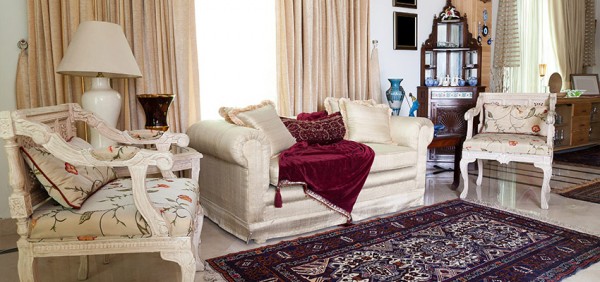 Pre-Care
Your rugs and carpets should be thoroughly vacuumed before cleaning, in order to remove loose dust particles from the fibres. If it is a rug that you are cleaning, then make sure you hoover both sides of it. You should also brush through any tassels or fringes by hand instead of vacuuming them, so that the threads don't get stuck in the suction pipe. After vacuuming, you should then use a brush to remove any leftover hair or dust particles which are more common in households that have pets.
Stain Removal 
It is important to select your cleaning detergents with care. Store-bought carpet cleaner is laden with strong chemicals, such as ammonia, which can damage the fine fibres in some carpets and should never be used on a rug. If you do wish to opt for store-bought cleaners, then a specialist rug cleaning fluid is a much better choice.
Home Remedies
Cleaning solutions that you can make from household goods are a brilliant way to tackle the stains in your fine carpets and rugs. This is not just a way to save pennies, but also ensures that you use mild and neutral stain solutions made from natural ingredients that are less likely to damage your fabrics.
Mix together warm water with a dash of white vinegar and if necessary then you can add a drop of laundry detergent. Always make sure that you test your cleaning solution on a small area first to check that there is no colour run.
Cleaning A Pile Carpet
It is best to clean a fine pile carpet using a firm, non-shedding sponge. Always brush away from the pile using a warm, soapy solution as described above. Try not to scrub too hard, as this may damage the quality of the pile. If you have stains that need attending to, then try to attend to the spillage promptly if possible. Blot or scrape as much of the surface debris away from the carpet and then try and rinse the stain with water. You can then apply a cleaning solution to the stain to try and reduce the marking. Leave the carpet to dry and re-assess the stain in a few hours as it may need a repeated treatment.
If you feel out of your depth in caring for your fine rugs and carpets, then always consult an expert who will be able to give you specialised guidance based on your specific requirements.
Graham Doyle is the director of Pilgrim Payne Carpet Cleaning, who are officially recognised as a supplier to the HM The Queen and HRH The Prince of Wales. Graham has developed an excellent reputation as a specialist cleaner of soft furnishings.