Choose a scaffolding expert carefully
It can seem daunting trying to find a suitable scaffolder; even if you've done it before the circumstances may be different in terms of the type of construction project, so scaffolding demands could differ. The main priority, as with many contractors, is to secure the services of someone reputable and reliable.
There are various ways to find suitable scaffolders.
Word of mouth
Perhaps the most reassuring of all; if someone feels confident in recommending a scaffolder to you then this is a good sign. That said, you need to compare like with like; if the person recommending the scaffolder had a certain type of job done – say a major build – and yours differs markedly, then their scaffolder may not be the best option for you.
For example, do you need the large contractor used by someone who had a huge new house built if you're building a small extension or annexe? A smaller contractor may well be more suitable for this type of project.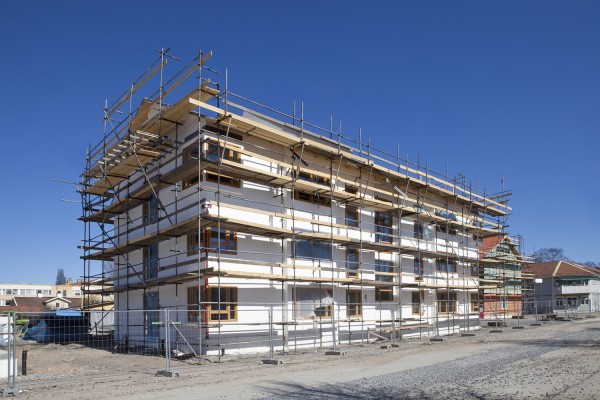 Checklist
Whoever you do talk to, they should have a certain set of 'standards'. Check the following:
Knowledge

Do they sound knowledgeable concerning the type of scaffolding set up required? Are they familiar with local legislation regarding the siting of scaffolding and setting it up on other people's property (if required) such as your neighbours'?
Training and accreditation

Are they registered with accreditation bodies? Look for branding on their website or paperwork from the following bodies: NASC (National Access & Scaffolding Confederation) and the Scaffolding Association. Perhaps the company's staff carry CSCS cards that show their competence in the trade.
Assessment 
They should be happy to come and properly assess the proposed project and provide an accurate quotation for the work.
Insurance 
They should be adequately insured  with a high level of public liability cover.
Price 
While you clearly need a scaffolder who can do the job properly, price will inevitably be a key factor. Ideally, if all things are equal then price may the determining factor but choosing the right scaffolder for the job is better than simply picking the cheapest.
When comparing prices, make sure you're comparing like with like. For example, are they all quoting 'inclusive' prices or are there any extras such as local authority permit fees.
Other ways to find a scaffolder
Thanks to the Internet, there are various websites and facilities to help in your search for a scaffolder.
Advertise

Using a website such as Gumtree or Indeed you can advertise your scaffolding job. This largely carries advertisements from scaffolding or construction companies looking for new recruits, but it's worth a try.
Scaffolder search sites

A little like searching for a flight or a hotel online, you can search for a scaffolder specific to your requirements and location. A site like Find A Good One allows you to enter various criteria to narrow it down, and a site such as Scaffolding Local – as its name suggests – allows you to search for a local contractor although some areas may not be included as yet.
If you like to get some feedback from others then try a site like Trusted Trader. Similar to Trip Adviser with their comments from previous bookers of hotels, Trusted Trader shows previous customer remarks of various tradesmen. You search for a suitable scaffolder in your area; alternatives are shown and you can read up on them.
Then there's Yell; the online version of the famous 'Yellow Pages' print business directory. It's simple to search by town or postcode and, in some cases, firms are rated and reviewed by previous customers.
Choose carefully
The above arms you with various ways of finding and assessing a scaffolder. It's a competitive trade so you should be able to find a suitable one with a good reputation at the right price – but take your time and try not to let price be the only deciding factor.
Nick Watson is the Chief Operating Officer of BrokerPower.co.uk, which provides pub insurance to UK public houses and bars.