Many new sewists aspire to make a beautiful quilt – and it's not hard to see why. A well-made quilt can last for many years, and could be the perfect thing to pass down to your children and grandchildren. So, if you want to get started but aren't quite sure what to do next, read through this handy guide. You'll find out everything you need to know about equipment, technique and fabrics, so that you can get started on making a quilt that you'll treasure forever.
Getting started
Making a quilt may seem daunting, but it's deceptively simple. If you can sew in a straight line and can follow a set of instructions, you're good to go! If the straight lines aren't quite there yet, don't worry – there is plenty of help at hand online. Once you're confident enough with that, have a look at a few different quilting patterns.
Ease yourself into quilting
Choose a small project first so that you can familiarise yourself with quilting. The beauty of quilting is that a project can be as big or small as you like, and patterns can be easily scaled down to suit a beginner. A pillow, sewing machine cover or just a smaller quilt are all great things to get started with – get a little more experimental with each small project to gain some confidence. Then move on to a full size quilt. Don't panic at the thought – quilting is so easy to do in stages, and you can easily commit to just a few squares a day.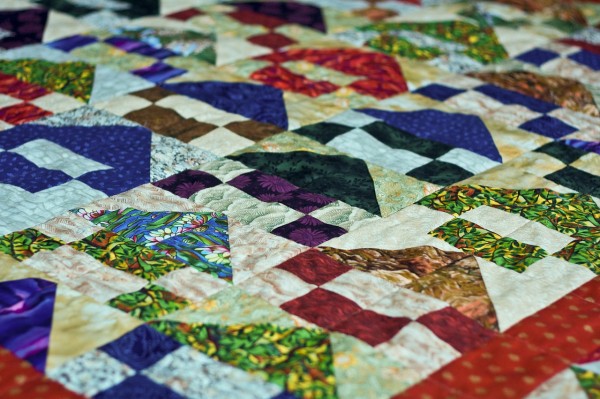 Do some fabric shopping
Choosing the fabric for your quilt is just as much fun as sewing it. A quilt should be really personal to you and your family, so pick colours and patterns that you love and get your little ones involved too – even if you have to politely refuse some of their more outlandish suggestions! Putting together a quilt as a family will mean that it's extra significant in years to come.
When you are picking fabric, think about the size of your squares. If they are small, opt for a delicate print, and if they're big, go for a large, bold pattern. Pick colours that complement each other too, and either choose pastel or bright colours. A great alternative to a brightly coloured quilt is a monochrome one, and a less busy colour palette will allow you to be more adventurous with prints.
Your must-have equipment
To put your quilt together, you'll need some tools of the trade. A cutting mat and a rotary cutter are invaluable. If you do use scissors, make sure that they are super-sharp – you don't want to snag your fabric. When it comes to sewing all of your patches together, opt for a Bernina quilting machine. These can be programmed for a variety of stitches and have extra space to the right of the needle to accommodate larger projects.
Don't be afraid, give it a go!
There's no doubt that a quilt is a big project – but that doesn't mean that it's too difficult for a beginner to take on. Like we said, the beauty of a quilt is that it can be as big or small as you like, and it can be done in stages. When it's complete, you be proud of all the hard work that you put into it and look forward to enjoying it for many years to come.
Nathan Franklin works for the Franklins Group, which is Europe's biggest specialist needlecraft store and the largest sewing machine dealer in the UK.