Choosing a watch for yourself is a very personal thing. A watch says more about you than any other thing on your body, and it certainly gives an impression about your personality. It is a highly personal choice. You will seldom find a person in a watch store who will just pick up anything for himself or herself.
People generally spend long periods of time choosing a timepiece for themselves, rather than picking up something random. One may own an array of watches, but surely spends a lot of time buying them all, carefully making each choice with delicate consideration. This article may help you make your choice easier, with tips and factors to consider before making the perfect pick.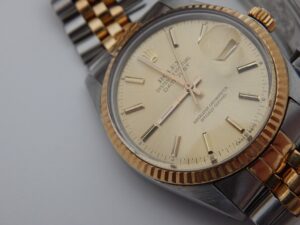 Let us start by classifying the various types of watches which are available. Watches come in countless designs, colors, prints and types by various watch makers across the globe. There are choices of straps and designs which go with each other. There are sport models, which are heavy duty and rugged, generally water resistant as well.
Popular sport watches are made by G-shock by Casio and ProTrek. These can be worn on a casual day and go well with casual and smart clothing. As opposed to popular belief, luxury watch makers like Rolex and Omega are also engaged in the production of sport watches. Rolex is making the Submariner, which was initially designed to be a diving watch. Now you can even wear it with a tuxedo and tie, and still jump down in the water if you feel like without having to think twice about your watch. These watches also generally have a chronograph.
Speaking of luxury watches, these are popular amongst businessmen and celebrities. People living on the luxurious side of life prefer renowned brands like Rolex, Omega, Tag Heuer etc. These companies have been in business for more than a hundred years, and are known as the pioneers in watch making. They specialize in luxury watches which generally come with a heavy price tag. But they are every bit worth of money. These watches have delicate craftsmanship on their dials and needles.
Some watches may even have their delicate machinery exposed for view. These watches come expensive, but they make a wonderful addition to a watch-passionate person's collection. Fine watches are available not only by big brands, but by smaller, more economical brands as well. Watch lovers can choose from metallic to leather straps, as per their preferences.
Then there are these trendy designer watches, available in designer straps. Fashion brands like Gucci, Emporio Armani etc which are endorsing with designer watches. These can be ornamental, delicately carved, printed and have other fancy attributes to them.
To know more about Luxury Watches Visit:Hal-Martin's Watch & Jewelry Co