The world of technology has advanced at such a rapid clip that it's almost impossible to think about what our world is going to be like in just five, 10, or 15 years – we might not be all that far away from flying cars, after all!
And even though most of the technological advances have occurred in the world of business, manufacturing, and consumer technology, Singapore vending machines have also been revolutionized in just the last few years.
These vending machines used to be loaded down with cold beverages, soda, snacks, and other candies, but now they are being introduced into the Singapore community loaded down with hot meals – and they are pretty tasty!
Food and Beverage companies have started to take advantage of these innovative technological solutions to come up with new ways to provide consumers with access to piping hot delicious meals without having to visit a restaurant, food cart, or bring food with them to the office.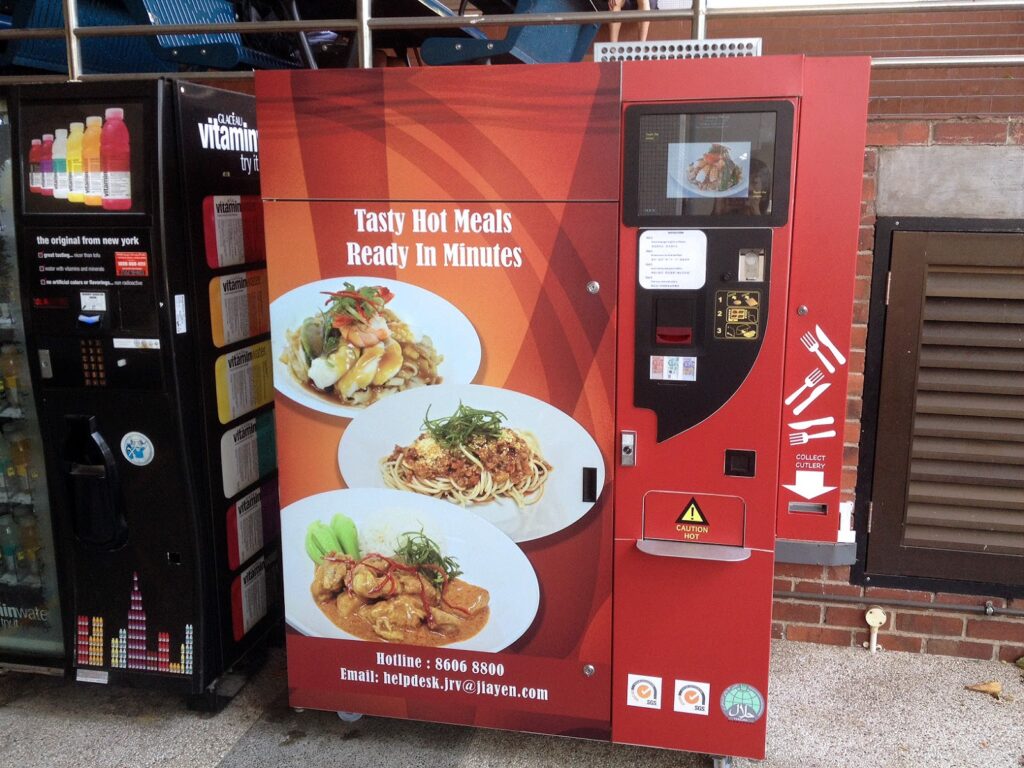 The Future of Dining Out in Singapore
A major initiative to introduce these new hot meal vending machines in Singapore was kicked off after a conference where representatives of McKinsey & Company made note of how people in Singapore dining out and just as much as the people of Japan do, and that there is a tremendous amount of room for growth for the food and beverage industry.
The only real constraint is the fact that there is a traditional "food services format" that the overwhelming majority of operations in Singapore are sticking to, and not a lot of innovation.
The Japanese were able to conquer this exact same problem a handful of years ago by introducing new hot meal vending machines into popular business centers, shopping malls, and other high concentrated areas of people, and it's been wildly successful.
Now these machines are pretty much part and parcel of everyday life in Japan, and are becoming a lot more popular in Singapore than a lot of people expected.
How these Machines Work
Each and every type of hot meal vending machine in Singapore is different from the rest of the pack, but the overwhelming majority of them share a number of different similarities.
Your typical hot meal vending machine is going to carry anywhere between 80 meals and 120 meals, and it's going to be of the wall for multiple types of hot and ready meals at the same time.
This is about the same amount of "turnover" that a traditional coffee shop in Singapore does every day. These machines are a lot less expensive to maintain and operate, offer a line of versatility as far as installation and application is concerned, and open up fantastic opportunities for starting up a business for entrepreneurs to take advantage of.
Hot meal vending machines are very much the "next big thing" in the world of food technology. Smart and savvy business owners are already lining up to deploy these amazing pieces of technology, and they should be become pretty commonplace in just the next few years.
About the Author:
Morris Edwards is a content writer at A1 Business Pte Ltd, who loves to learn and write about Business in Asia. If you want to Register a Company in Singapore, visit http://www.companyregistrationinsingapore.com.sg