Custom pools are the new vogue of the age and there are various types of pools available now, which can be installed directly on to any space. In US, majority of homeowners are now busy constructing such custom pools at their backyard, which can be a perfect relaxation spot and fun center for the entire family. With many cheap and affordable options available, it is not difficult for an average homeowner too to think of making a custom pool. Above ground pools are also getting popular now, which are;
Affordable – Above ground pools are highly affordable for those who are looking for easy ways for backyard entertainment for kids.
Great for small lots – If getting a hoe into to backyard is merely impossible, then above ground pools can be ideal, which can be carried in a kit and easily set up instantly.
Options – The above ground pools come in various shapes and sizes. Matching to your preferences, there are various decorative wall patterns and decking options also available.
Next comes the most popular below ground swimming pools. This is the one most of the property owners think of and there are endless options in such pools for you to choose.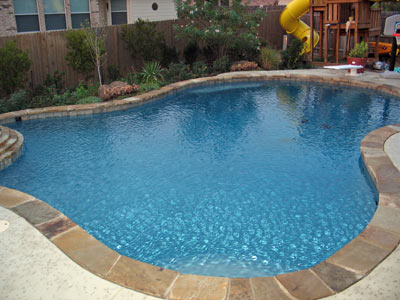 Fiberglass Pools
These type of custom pools are made of molded fiberglass (reinforced plastic). Ending at ground level, fiberglass pools can last for long and offer years and years of fun and excitement. The typical fiberglass swimming pools are giant bathtubs, which can ensure cleanliness and crispiness of fresh water.
Installation – Fiberglass pools are there in different sizes and as soon as your yard is excavated, it can be delivered in one piece and easily fixed.
Cost – Fiberglass pools are a bit expensive when compared to concrete, but it can ensure return on your investment overtime without the need for much maintenance and have an extended life. You can avoid any relapsing expenses for using chemicals as in concrete pools and also save replacement expenses.
Shock absorbing – As you know, earth moves. Fiberglass has high degree of shock absorbing capabilities and will not break even on bending up to 2 feet. Especially, if you live in an earthquake-prone zone, fiberglass is a good choice.
Concrete Pools
Concrete is the most conventional and popular option in making custom pools. As far as ground pools are concerned, concrete offers plenty of room as you want.
Installation – Concrete pools are custom built based on the specifications you give to the pool builder.
Cost – The initial installation cost of concrete pools is much lesser than a fiberglass. However, this may require timely maintenance that will incur a sum.
Time – Concrete pools are built in different stages of layout and excavation; steel installation, plumbing, equipment set, shotcrete / gunnite application, tile installation; and interior finish. It may take longer to finish than fiberglass pools, typically this may take 3 weeks to two months to complete.
Apart from these two, there are vinyl pools also now installed by many people. There are many new technologies too available now like making your pool a giant Jacuzzi or whirlpool maker etc. for more fun. Anyway, having a pool at your yard is not just fun, but in the stagnant life style of modern days, it has a high significance on the overall health of the inmates.