In the Indian two-wheeler industry the competition for the supremacy is between the two brands the Hero and the Honda. The Hero Splendor has been topping the sales charts for the last few months. But in the month of August 2014 the bike sales figures show that the Honda Activa has recorded a sales figure of 1, 91,883 units which is better than the 1,65,779 units recorded by the Splendor. This shows an increase of nearly 64% in the previous year's sales figure for the same month. In the last eleven months this is the third time that Activa is achieving this.
In the commuter segment of the Indian two-wheeler industry the bikes are more in demand than the scooters. The achievement of the Activa is more significant as an automatic scooter is displacing a motor cycle in the sales charts. The two wheelers are made more attractive now with advanced technology, high fuel efficiency and better body styling.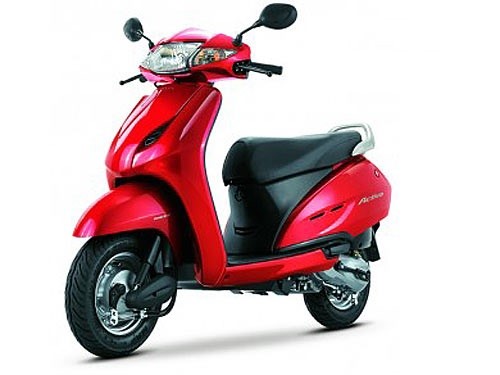 The Activa originally launched in 2001 has been an instant hit at that time. Even after 13 years of existence there is a waiting period of few weeks for the scooter. The Honda spokes person says that out of the 60,000 pending orders with them 70% are pertaining to the Activa. In order to retain the number one spot the Honda India has to step up production to cut down the waiting period.
The Activa the reigning king in the scooter segment has also been face lifted this year. The more powerful Activa 125 unveiled in the Indian auto expo 2014 has been launched on 28th April 2014. The Activa 125 is powered by a 125 cc, 8.6 bhp engine with a V-matic CVT transmission giving mileages of 48 to 50 kmpl. The Activa 110 has a 110 cc, 8 bhp engine giving mileages of 60 kmpl. The Activa125 has the telescopic hydraulic shock absorbers at the front and the spring loaded hydraulic shock absorbers at the rear. The Activa 110 has spring loaded hydraulic shock absorbers at both the ends.
The disc type brakes provided in the new Activa 125 help in increasing the popularity of this scooter. A 190 mm disc brake at the front and a 130 mm drum type at the rear make the braking more effective. A comparable weight of 111 kg and a better maneuverability on the city streets make the Activa a better commuting vehicle.
The Honda Activa 110 is priced at Rupees 49,500. The Activa 125 disc is priced at Rupees 63,000 and the drum type 56,000. The HMIL expects the Activa to retain the pole position in the commuter vehicle segment in the coming months also.
For information on Upcoming Cars in India log on to – http://autoportal.com/upcoming-cars/