Google wants to make Android tablets more productive. The end of September pixel C was announced with 10.2-inch display and it is available  for purchase  at price starting from $499 in the Google Store. High-end specifications, the latest version of Android, and a salty price. A choice between a tablet and a PC and the USB Type-C interface. Similar to the Surface Microsoft or Apple iPad Pro. Also, it is available in two models, one model with 32GB internal storage priced at $499 and  64GB internal storage model priced at $599, pixel C also now available with optional keyboard priced at $149.
It is a High-end design tablet with a very great technical specifications, The Nexus 5 is also an excellent device, which later made Google's commercial success. The Pixel C is certainly a very good product.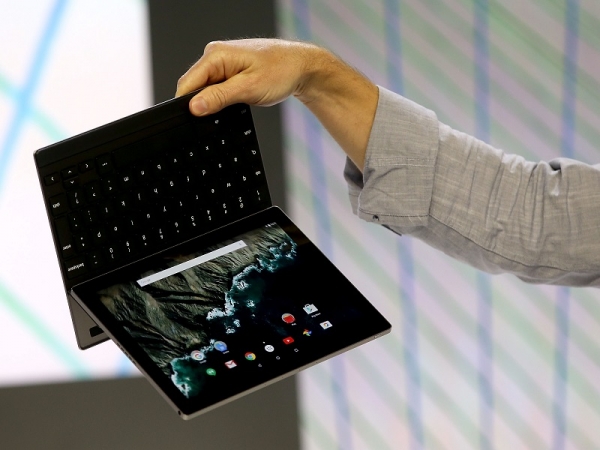 Google pixel C features a 10.2-inch LTPS LCD display, with a screen resolution 2560×1800 (308 ppi) , However, Android version installed on the device  does not support the display of two apps side by side. The screen brightness in Google pixel C with 500 nits and contrast ratio 1500. The display, For display side, It is one of the lightest device currently available on the market. The "pixel C-keyboard" connects to the tablet via Bluetooth. The tablet angle ranges between 100-180 degrees with the magnetic keyboard.
The device, which pixel C is not designed with a Qualcomm or Intel CPU, but powered by a Nvidia's 64-bit chip Tegra X1, with an octa-core processor with a GPU based on the Maxwell. It is expected to reach a computing power of one teraflop.
Memory installed in pixel C 3GB LPDDR4 RAM. Internally storage, depending on the version 32 or 64 GB of flash memory available, But the disadvantage. An extension of internal storage is not possible for lack of a MicroSD card slot. Therefore, users should think twice before buying, how much space they need for data storage.
For Photos and video clips (user can capable of recording videos in 1080p), with a rear 8-megapixel camera. In addition, there is a 2 megapixel front cam for video chat. For voice recording four microphones are integrated into the tablet. The audio output is via side stereo speakers. Headphones can be connected via a 3.5-millimeter audio output.
Pixel C compatible with dual-band WLAN IEEE 802.11ac and Bluetooth 4.1 after, And runs with the operating system Android 6.0 marshmallow. The new Google tablet measures 242 x 179 x 7 mm and weighs 517 grams. The built-in battery provides 34.2 watt hours, which supports more than ten hours of running time.