The importance of backup is beyond doubt. There are many computer backup options on the market for you to choose. A great option for backup software is AOMEI Backupper Standard. It is free Windows backup software which has earned good reputation among worldwide users due to its amazing features such as its reliability, security, power and easy-to-use. With the upgradation of the software now it is considered as the simplest free PC backupper.
As the interface shows, there are four main parts: Backup, Restore, Clone and Utilities.
Backup Features
AOMEI free backup software provides basic and advanced features to ensure the safety of your system and data. Choose what you want to back up: system, files or folders, disks, partitions or volumes. You can schedule regular backups to run daily, weekly, or monthly. This saves you a lot of manual oversight. AOMEI Backupper offers a wide range of backup levels to balance file size with coverage. Full backups are time consuming and produce large image files. Based on a full backup, the software enables only backup changed or new data with incremental and differential backup in order to save time and disk space for you.
Restore Features
Restore options include System Restore, Disk/Partition Restore, File Restore. Besides, one outstanding feature that makes this freeware different from other free backup software in the market is Dissimilar Hardware Restore. This feature enables you to restore a backup image created on one computer to another computer with dissimilar hardware, and to migrate system from physical to virtual (P2V) machine.
Clone Features
AOMEI Backupper Standard is also free system, partition and disk cloning software. Clone software is a simple and yet most advanced solution to migrate system drive, transfer data, upgrade disk and replace old small hard drive without worry about losing any of your file and operating system. For example, you are upgrading your PC to Windows 10, and you want to upgrade your hard drive to SSD for better performance. Then you can use the feature of System Clone to transfer Windows 10 to SSD. You can also make an exact copy of your hard drive through the feature of Disk Clone, and then restore it to the new disk. If the destination disk is SSD, you can choose "Align partition to optimize SSD" to increase the performance of SSD.
Utilities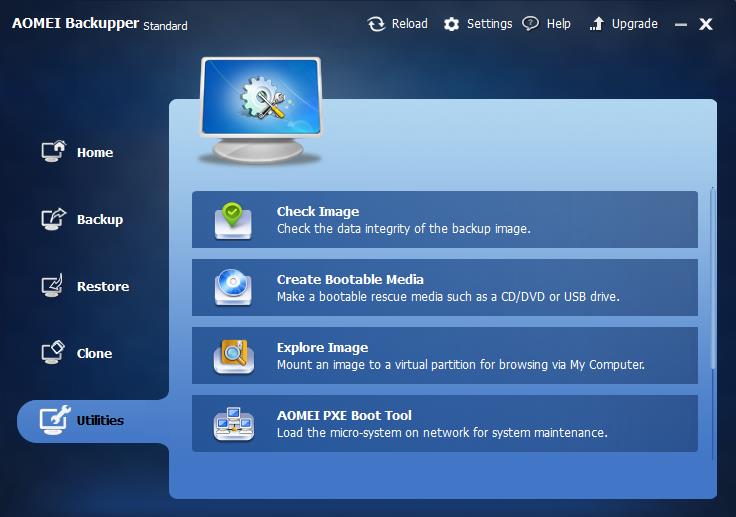 There are many other useful tools included in AOMEI Backupper Standard Edition. With these utilities, you can manage your backups even better. Such us "Create Bootable Rescue Media" enables you to make a Linux or Windows PE bootable media (CD/DVD disc or USB drive) for backup and disaster recovery in case of Windows cannot boot. With "PXE Boot Tool", you can start up client PCs within LAN through the network booting by using bootable image file on a master PC for system maintenance.
AOMEI Backupper Standard supports almost all popular Windows Operating Systems, including Windows Vista, XP, Windows 7/8/8.1 and the latest Windows 10 (both 32-bit and 64-bit). Moreover, the software supports many types of different disk formats, like NTFS, ext2, ext3, FAT16, FAT32 and other file systems.