There has never been a more exciting time to start-up or relocate your business within the City of London. Increasingly creative plans and proposals are being made, and although it is unlikely that all of them will come to pass, it is clear that imagination is the most important tool in the redesigning of London's ever-changing cityscape.
Bigger, taller, stronger
When it comes to plans for new structures within the capital, it seems that the only way is up, and up, and up.
Adding to the skyline created by the Shard and the Gherkin, plans for more skyscrapers are popping up everywhere and although some are a long way off, others are seemingly just around the corner.
Plans for a new 304 metre skyscraper opposite the Gherkin have been put into motion, and construction may begin before 2015 is out. The building promises to be the second largest in Europe.
It is not just offices that are building upwards, the ever growing population of London means an ever growing demand for housing. The solution to this seems to be building upwards.
High rise apartment complexes are popping up everywhere and plans for a futuristic building that stands over 300 metres, has its own ecosystem and could house an entire neighbourhood are being discussed.
Although not likely to happen any time soon, the fact that such a building is even considered possible could have a huge impact on the city. Looking beyond housing, the options available for office space using similar technology in the future are seemingly endless.
Swiss architects Herzog and de Meuron are currently working on plans for a huge housing structure in Canary Wharf, but there are also four more buildings coming from the same team. Two of these will be office buildings targeted at creative media, technology and telecommunications companies.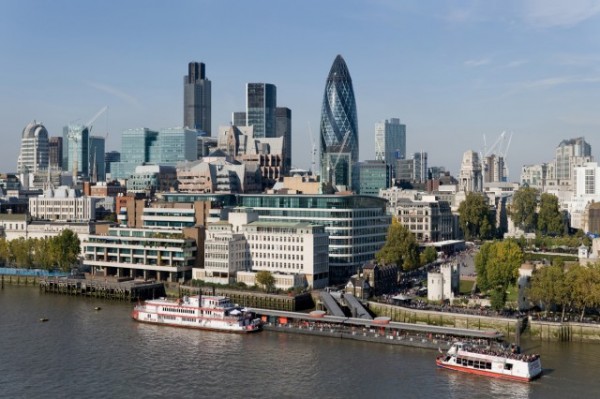 Transport Revolutionised
When you are looking to relocate or start a business in London, office space isn't all that is important. If these exciting new projects bring in extra traffic, how will this be catered for?
In an increasingly environmentally conscious world, attention no longer needs to be solely on car and public transport travel. Bicycles are the new go to method of transport and plans for the city reflect this.
From a floating cycle path on the Thames, to an audacious plan to have cycle lanes above the city's railway system, to an underground tunnel system utilising unused tube lines, there are endless revolutionary ideas being brought up to add options for cyclists.
It is unlikely that all, if any of these particular projects come to fruition. But it is clear that the way we think about transport in London is going to change.
What does this mean for you?
If you are planning on relocating within or to London, you are only constrained by your own creativity.
The city is embracing those who are bringing imaginative and original ideas, and these ideas are opening up an increasing amount of office space.
Whether you are looking to build your company, and indeed your office from the ground up, or take advantage of the new opportunities that have already been created for you, the possibilities are truly endless.
If you have decided on a move to London, then the only option is to think big. Be optimistic, if London was ever a city for the subtle, it certainly isn't anymore. Have confidence in what you do and you could find yourself being a part of the new breed of creative minds that is taking the nation's capital by storm.
London Office Clearance provide safe and secure office clearance services, including computer data disposal, perfect if you wish to make a fresh start in a new office.