VoIP is Voice over Internet Protocol that allows you to calling feature from one person to another. VoIP technology allows you to call to anyone without any service provider. You need only internet connection to call all over the world. Your internet connection must be good, so that call quality will be best and you will not get irritated. No telecom company will be involved in this service. You can use any VoIP technology with Skype, Vonage etc. No cable connection is required for setup a communication call between two people.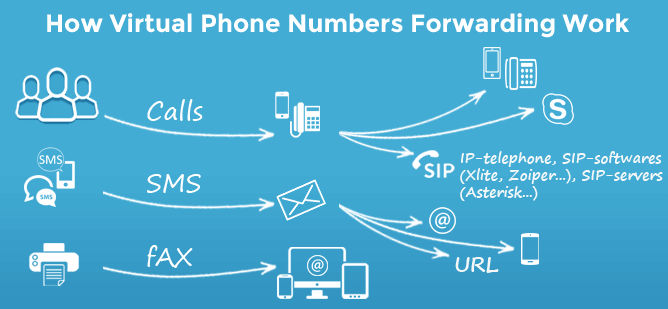 Virtual phone number is a service that makes call from their own mobile phone. You will get virtual phone number from any service provider company so that you may call to anyone in the any part of the world. Virtual phone number is generally used to forward incoming calls to other number which may be landline number or your home phone number. Virtual phone number will also work in areas where actual phone number does not work. Your calls will be transferred to your virtual phone number and caller will not be able to know where the call has gone. Using virtual phone number, user does not need any extra hardware or cable or sim card. Virtual phone number will be enabling on your existing mobile phone.
There are number of differences between virtual phone number and Voice over Internet Protocol, which are discussed here:
Safety safeguards – There are number of security issues associated VoIP service technology as calls made over from the public internet route while virtual phone numbers use private data centers to making call. Virtual phone numbers provides you lot of security as compared to VoIP.
Security – VoIP calls are made over the cloud which is public internet while virtual phone number are used t make call from your mobile phone.
Calling feature – VoIP calling service used by Skype which allows you to making and receiving calls without any ringing bell. Virtual phone number has this ringing feature. This also has number of features also like call tracking, call records, call forwarding time slots.
Device associated – VoIP will be used to calling one station at a time while virtual phone number is used to call either single or multiple stations. Main thing is that VoIP technology requires good internet connection otherwise call will not be completed.
Cost – Cost in the main factor when you use any service for calling. As, VoIP is calling technology that allows you to make call using public route which is cheaper than virtual private number. Virtual phone call is comparatively costly but both the calling service are cheaper than conventional call rates.
Dependency – VoIP calling service is dependent on the good internet connection. You will able to make quality call if you have good internet connection. Virtual phone call will be made even when internet connection is not available.
Availability of numbers – VoIP numbers are not dependent on other number and can be transferred to any other number. Virtual phone number will allow you to transfer incoming calls on any number which you want.