What is an urn? It is a tall, rounded vase with a stem and base, especially one used for storing the ashes of a cremated person.
For most pet owners, dogs, cats, lizards, birds, and rodents become nearly like children. They are not merely just pets they are their life. It's hard to imagine what if something mishap occurs with the pet. The thought itself gives tingling in our spines.
This small creature you've nurtured, often since babyhood, is suddenly ready to pass on. As you're being hit with a tidal wave of emotions, you have to make decisions about what to do with them. Many choose to put them down before a disease gets too painful for the animal. Then there's the decision about whether to bury or cremate them.
For some, keeping a pet's ashes allows them to better remember and honour the pet they loved for so long. There are a variety of ways to accomplish this, but a purpose-created pet urn makes a nice memento if you can't bear to be rid of the ashes. No matter how you celebrate your pet's life, there's a style of pet urn for you.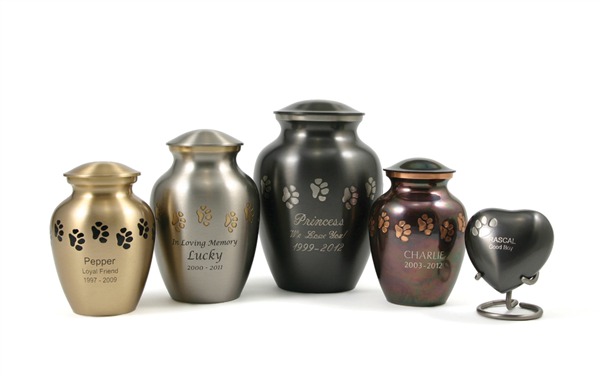 Let's look on some best urns for your pet.
Vitrified Studio Stoneware Clay Pet Urn
A handmade piece makes an especially nice memorial for your passed pet. This one is made from stoneware and features a lovely white glaze. You can find "forever loved" engraved on the sides as a tribute to it. This studio can be made in sizes, colours, and with different text to suit your specific wishes.Price 75$
Near & Dear Pet Memorials MDF Photo Urn
If you like the idea of an image to represent your pet, you can also get an urn that holds a Pet Memorials photograph. This comes in 3 sizes and various colours. 25 cubic inch model for pets up to 15 pounds. 40 cu inch for 30 pounds and 85 cu inch for 85 pounds.Price 25.95$ for 25 cu inch
Bogati Hand Carved Rosewood Urn
This piece is a wooden styled offering, and it is carved from beautiful rosewood. The elegant engraving adds a nice touch.  It is a decorative piece that politely celebrates one's pets' life. With the small option measuring 30 cubic inches for pets up to about 20 pounds, Price 24.90$
Elegant Classic Pet Memorial Urns in Pewter or Brass
It is available most of the times in three sizes for animals and it is up to 120 pounds, this not so admired but elegant urn can be seen in two different metal finishes, pewter or brass. The lid is threaded and seals securely. This is sure to look refined in any space and offers your furry friend a dignified place to rest.
Price-34.99$ to 49$
Rock Pet Urn by Midlee
Very often we see that pets get buried in the yard which was once their playground when they were alive. A memorial marker is like a dedicated stone that can be used to mark the spot. This urn is made out of resin to look like a stone marker while holding the ashes inside. Remember your pet as they were: exploring your yard for hours at a time.It's made for animals up to 60 pounds,