Do you enjoy playing bike riding games? Look no further, because we are bringing to you two of the best bike riding games of the year 2016. The first one is Racing Moto Traffic Rider 2016. It is a bike rider in two way traffic in different environments with advanced controls. The second one called Modern Armored: Bike Attack is slightly different being both a bike riding and a shooting game. Let me give you a detailed review of each in this blog.
Racing Moto Traffic Rider 2016 designed and developed by Games Tree, is an exciting adventurous bike racer. Racing Moto Traffic Rider 2016 opens up with the player riding on a bike. In this thrilling game you have to tilt your device either ways to change the direction of the bike. This is much more than a normal bike riding game. Players have access to brake and accelerator controls. A pause and resume game option is also there to facilitate the game.
Game Play
For a single player mode you can play even without an internet connection, but for multi-player you need to play online. There are different game modes to choose from, including the fuel mode, time mode and endless traffic. As the name suggests fuel mode is based on limited fuel whereas the time mode has a given time frame within which the game has to be finished and the third mode of endless traffic has two-way traffic coming from both directions and the player has to dodge the vehicles by zooming through them.
Graphics Environment & Sound Effects
This bike riding game has excellent graphics and realistic sounds. There are four environments from which the players can choose one which they like. These include Snowy, Highway, Rainy and Foggy. After selecting one you can ride in the environment created in high visual graphic to appear real due to its quality as well as highway sound effects.
Beware of Heavy Traffic
Other vehicles including heavy traffic, bikes, cars and trucks include some of the hurdles that you will have to dodge. This game is guaranteed to improve your road racing skills and dodging vehicles skills.
Scoring
Score is recorded in terms of the distance you travel. A high score is also maintained on the basis of the highest distance traveled.
Modern Armored: Bike Attack is a unique bike attacker game where you are not only riding a bike and racing but you are also attacking enemy bikes. The scenario behind this game is that an enemy base camp has been set up in your hometown and you have to fight the enemies which have taken hold of your town. FHA Games have developed this game with an added appeal than normal bike riding games. They have included bike attack elements in it to increase game appeal.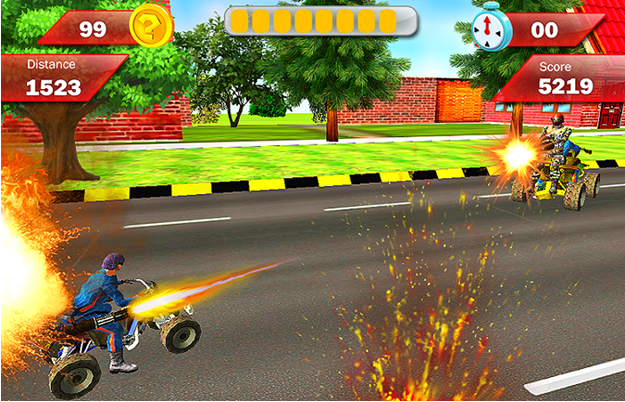 Game Play
The gameplay intends to teach you warfare skills improve your shooting skills and give you better driving abilities. This bike attacker game has five strategic missions where the player is given a mission in terms of the number of enemies they have to kill and the distance they need to travel.
Graphics Environment & Sound Effects
Graphics are 3D, attractive and colorful. The road racer is set in a hometown environment where there are pavements on either side and vehicles on the road. The sound effects are quite appropriate for this game.
Beware of Hurdles in your Pathway
While you are riding your bike and attacking opponents, you may face several hurdles and obstacles on the way. These include various road stands, water tanks which can fall on you at any time and enemy vehicles that might shoot at you. So be careful.
Scoring
Score is based on how the player accomplishes the given mission. Also upon whether the required distance as given in the mission has been traveled or not.
Future Plans
The developers at FHA Games plan to include the multi-player abilities in this game. Plus they are planning to add chatting capabilities in the future versions of this game.
OUR VERDICT
Both games are for Android users and free to download. They are full of action, adventure and thrill and are quite addictive. The graphics, sounds and interface are impressive. How will you choose which one you want to play? The easiest way is to play both of them and then decide which one you really like. But if you have time constraints or don't really want to bother downloading both of them, let me give you a brief comparison. The first game Racing Moto Traffic Rider 2016 is more for those who want to learn bike riding skills or speeding past heavy traffic while the latter one Modern Armored: Bike Attack will give you an opportunity to learn driving, shooting skills and develop escaping abilities.
So now you can easily decide which game you want to go for.