Back pain is one of the most common ailment that troubles a large fraction of the population. Here are some remedies or suggestive treatment that may require the advice of a health expert before opting for. However, a large number of people have been benefited from these remedies that can be given a try at home.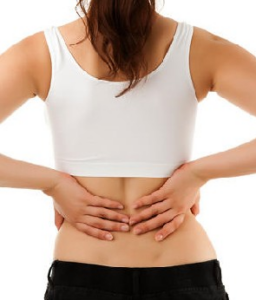 Ice is Wise
Better than some modern medical treatments, ice or a cold pack works pretty fine in relieving the back from pain and swelling. Ice is also recommended in a first aid guide as a step to soothe the injury suffered during an accident where there is a chance of muscle or bone damage.
Application of ice is also a recommendation for treating stiff muscles caused by an activity that involves sudden twist movements.
Surgeons recommend ice packs to patients as a postoperative measure, as it has proven to be a more efficient method to cure a sore back. Combining massage along with the application of ice works as an effective alternative to medication.
Heat it Out
Heat or warmth is associated with the feelings such as cozy, safe, and rest. Rest or relaxation can at times heals most of the back associated problems. Because the primary cause of the pain to originate is stress and tiredness.
As we know, relaxation is anti-stress and rejuvenates the lost energy of the muscles. A heat therapy works as a perfect treatment for back pain relief.
The heat therapy is done to not only provide relief to the back muscles but also to heal the injury that the body might have sustained during some physical activity.
Sports person know that a heating pad can give them permanent relief from a stretched muscle, twisted spine and sudden jerk reaction of the back. Patients are often advised to receive the therapy via heat wraps, warm gel packs, hot baths and heating pads. One may alternate the ice and heat therapy if required.
Water + Massage
Massage is one the most popular options to heal and reduce back pain. Indicating that the method has shown positive results in majority cases to decrease pain and contribute to the healing process.
Some health insurance plans provide the policyholder to claim for massage therapy. Hence indicating that medical sciences have also acknowledged it as clinical treatment.
Water therapy is also a part of the massage treatment, which is based on the healing effects that water produces. The effect is created with a combination of elements such as the temperature of water along with the hydrostatic pressure, reducing pressure on the joints of the spinal cord.
Hence, water therapy helps in restoring the motion that the muscles and bones of the back have to perform.
Yogic Relaxation
Yoga

is an ancient technique that proved to be a magic wand for some nasty back injuries. So it undoubtedly can reduce, treat and cure the pain actually. The asanas performed, can improve blood flow, eliminate stiffness and restore the body balance.
Accompanied by meditation, the benefits can be unmatched by any other treatment. The inclusion of yoga in your lifestyle can also enhance flexibility and thereby, reducing the chances that you will hurt your back due to sudden jerk. Meditation keeps the mind calm and initiates a relaxing effect on the body.
The Defaulter Element – Hamstring
It is not what you may think it is, people who have stiff hamstring muscles may have to bear a lower back pain, due to the restricted motion of the pelvis.
You may consider performing hamstring stretches, by applying even pressure to the hamstring muscles for a duration of 25 to 45 seconds, once or twice as per the resistance of an individual.  
Click Here : http://www.zimsusa.com/