An Army man is physically fit and mentally tough. His fitness, courage, valor and untiring attitude can be just seen in his uniform and other clothes that he wears. It gives you a feeling of security when you see an army man on the street.
Wherever an army man goes, stands and relax: you can identify him with no much difficulty as one of the symbols of his dress or other attires will be visible. His way of speaking, walking and working is slightly different that common man and his excellence is visible here. Thus, being in military is not only the profession the development of an ideal human being with exemplary features.
In other words, an army gear is not just uniform or cloth, but it's also a symbol of honesty, selfless care and protection for a general public from unnecessary troubles. It not only safeguard the outer frontiers of the country but bound to keep out the people who would have intention to harm the general masses and innocent people.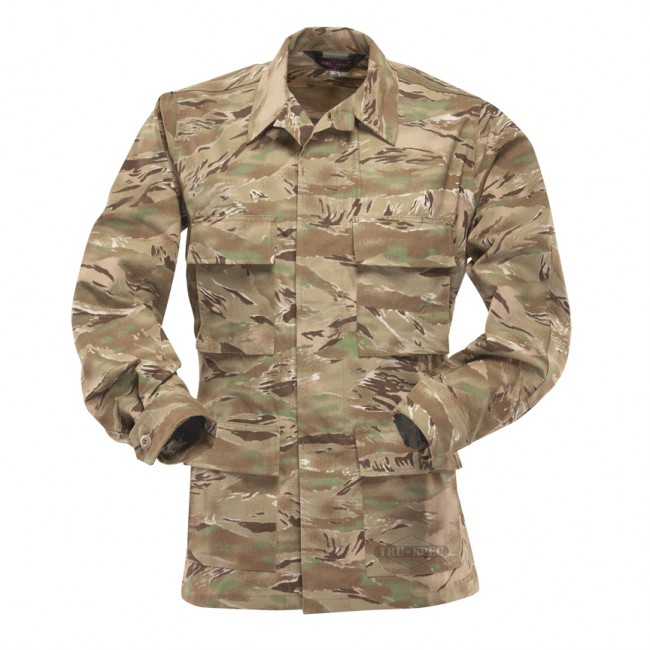 To have special feeling and unique look the civilians are too tempted to wear military gear as it has hard-wearing practical use. The attires made for the armed force is delivered at a reliably high level of quality. These are more durable as well as weather resistant. You feel comfortable and pay less amount of money on all pieces of army gear than that of latest fashionable and trendy clothes.
Be it shoe or socks, pants or trousers, T-shirts or jackets, jersey pullovers or jackets, caps and badges all cause specialized attraction to common man and he likes to wear this dress.
But for a military man, his uniform is directly attached to his special identity and uniqueness. A military man not only wears the simple uniform, his rank and status symbol, length of service, honors and awards won by him; everything is reflected on his uniform.
During his career, a military man undergoes many exercises and war-operation and his uniform is decorated with his place and nature of employment. For example, a flying pilot is having flying eagle in his uniform where as medical professional in the same army is having symbol of snakes on collar of his uniform. Thus, whatever the experience and training you undergo in military, you need not to explain through your mouth , it will be visible on your uniform.
Various types of military gears are worn by the military men, which differs with branch, corps and thus defining specific uniform pattern such as ceremonial uniform, normal working uniform, mess dress or physical fitness etc. All is having different attires and make you distinct from others.
The military gear is one of the reason that prompts youths to take up military as a career.
Apart from these, the military gear is also being used today by many people with the view of fashion and special dress. The students in school also wear this uniform. This brings awareness in them about the military service.