WinPE is short for Windows Preinstallation Environment. Microsoft developed this for preparing a computer for Windows installation, to copy disk images from a network file server, and to initiate Windows Setup. WinPE does not need a hard drive to boot, and it can run solely from a CD/DVD, USB drive, etc. So usually we talk about the Windows PE boot disk it is meaning boot media, such USB or CD. They are also called rescue disc.
Why do we need Bootable Media?
Have you suffered that your PC suddenly failed to boot? What would you do if you can't access any of the onboard recoveries or repair options? In this case, a boot disc is very useful because it can be used to perform troubleshooting tasks on an unbootable computer. To simply put, when your computer fails to boot into Windows, you can use a bootable media to enter the maintenance environment based on Windows PE to fix error and make system load normally. Another case, since you can't predict when computer will fail to boot, you can create rescue media for prevention and preparation. The job has challenges under normal circumstances for most basic users, but certain tools make the process dead simple. Here, we will introduce a dead simple way to create WinPE bootable media with a free tool called AOMEI PE Builder.
Familiar Windows Interface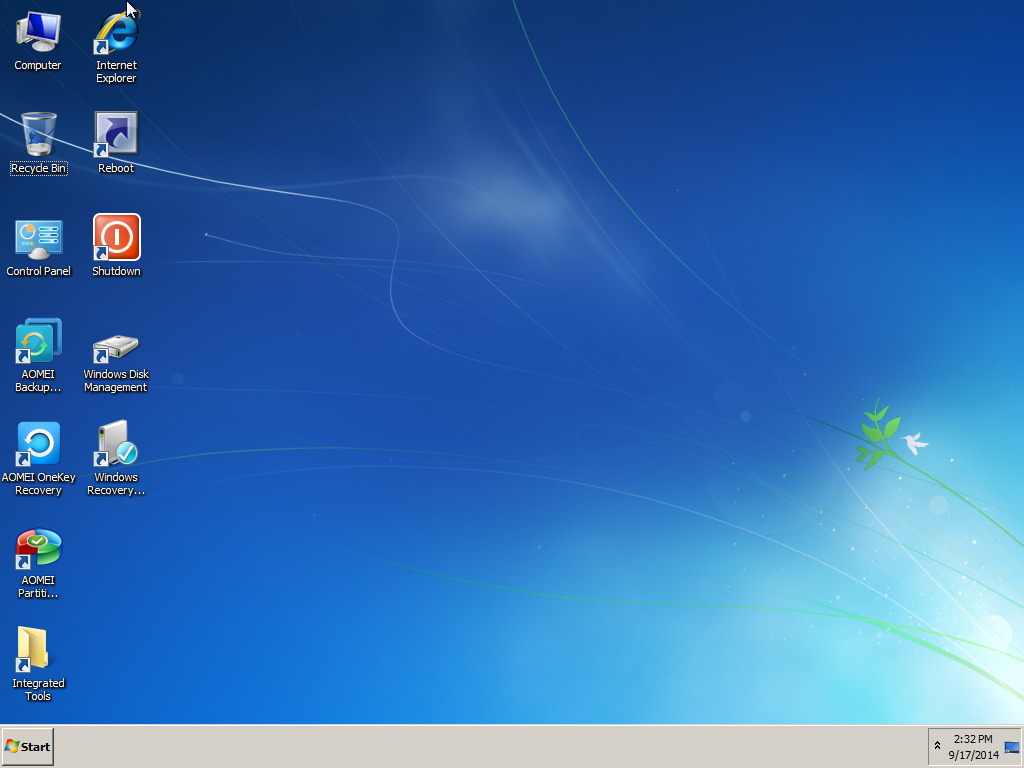 The environment created by AOMEI PE Builder is familiar to Windows interface. AOMEI integrates Windows explorer, desktop, start menu, and taskbar into the WinPE environment, so it makes convenient and effortless for you to manage files and perform a task, just like using Windows OS.
No AIK/WAIK Installation
What's more, to create a Windows PE media, traditionally you have to pre-install Windows AIK/WAIK, or prepare a Windows installation disc. However, AOMEI PE Builder can provides a bootable environment based on Windows PE without installing AIK/WAIK, which is very acclaimed by users, because this would save lots of time and make things go easier.
Integrate Useful Tools
Other than that, AOMEI Backupper Standard, AOMEI Partition Assistant Standard, and AOMEI OneKey Recovery are included by default for recovering readable data and examining partitions, along with other useful extras. Not only AOMEI software, but also other practical tool, such as 7-Zip, Notepad++, Q-Dir, Recuva, SumatraPDF, FileZilla, QTWeb, BOOTICE etc. have been built in it, you can add them by ticking the checkboxes. Besides, you can even add files and even drivers by yourself.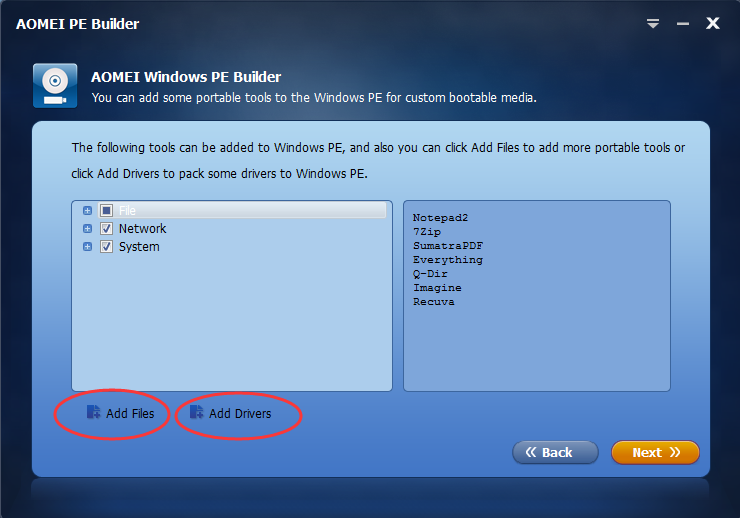 AOMEI PE Builder supports creating three bootable medias: CD/DVD, USB flash drive and ISO files, so you can choose the most convenient one according to your preference. The program supports Windows 7 0r 8/8.1, you can create your Windows 7 boot usb or Windows 8 boot disk with a few mouse clicks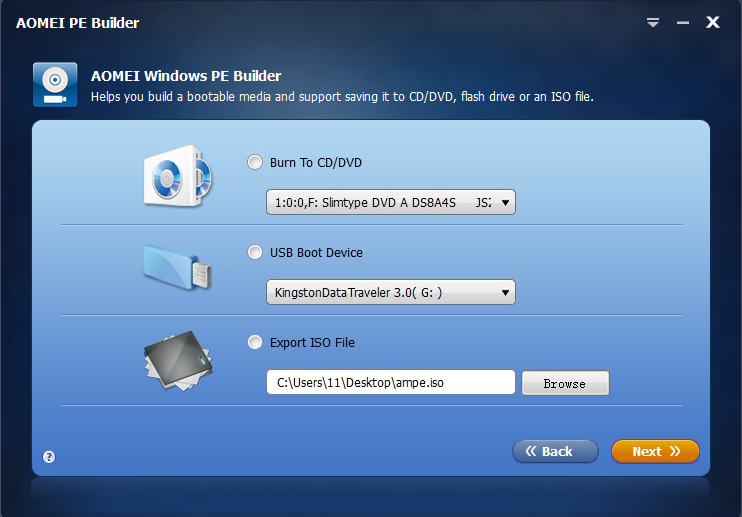 End sum
AOMEI PE Builder, with its standard Windows environment and additional free tools, is a practical and dead easy tool to create rescue media which certainly worthy a try. Add your favorite data recovery tools, antivirus, or other useful tools and you can turn it into a rescue disk for just about any specialized purpose.