That feeling of becoming airborne on a trampoline is enjoyable for both children and adults — it's undeniable. What's great about trampolines is that in addition to providing families with a healthy amount of exercise, they offer the opportunity for you and you children to bond, and try a work out together that doesn't have to feel like so much work. When purchasing a trampoline for your household however, you want to be certain you're choosing the highest quality, safest, and most durable product on the market. Paying attention to safety before you buy will guarantee you a risk-free jumping experience, reducing your chances of injury, and providing your family with a trampoline they can trust for many seasons.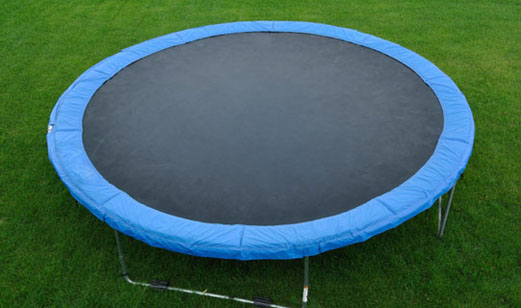 If you're looking for the safest trampoline on the market, it is always recommended to do your research when purchasing a product, especially one that traditionally has a higher level of hazard associated with it – you want to find a brand that rates high for both quality as well as cost, and align yourself with a company that promotes an atmosphere of safety and ingenuity.  The truth is not all trampolines are created equal; finding out what improvements a certain manufacturer has made to the traditional model, and what standards they are adhering to, will guide you in the right direction.
One manufacturer, Springfree Trampoline, has been leading the way in regards to safety. Some ways in which they are being innovative include the use of flexible composite rods situated under the jumping surface instead of springs – eliminating the risk of pinching and caught limbs. These flexible composite rods also support a light FlexiNet, absorbing impact and actively guiding users back to the jumping surface. Moreover, the metal frame is hidden under the surface itself – no more banging or bruising arms or legs, and their SoftEdge mat absorbs shock adding more comfort and ease to the jumping experience.
If you're looking for assurance, see whether the product you're considering has awards under its belt. For example, both the US family Choice Award, the International Design Award, and most recently the 2016 Australian Good Design Awardhave been given to Springfree for its safety, and its ground-breaking introduction of the tgoma digital game system – encouraging more interactive trampoline play. tgoma takes children away from sedentary play, into a fun and active environment; the use of digital interactive platforms doesn't force them to choose between being outside and connecting to the web. They may connect to tgomaFit, allowing them to compete with neighbouring children in jumping competitions, or problem solving together in games such as Fruitants – where they turn mutant fruit into smoothies by jumping.
When doing your research, keep in mind thatoutsourcing affects the quality and safety of a trampoline model. The best trampoline is built in a single facility, this way you can be sure that your new trampoline has been rigorously tested for quality assurance, and any issues have already been solved in house. Buying a low-grade model, from a manufacturer that may not be putting the needs of your family first, puts your whole family at high risk of injury. Choosing a trampoline you can feel confident about allows your family to maximize on their entertainment and fitness while minimizing their chances of getting hurt.