If you have met the woman of your dreams and have made up your mind to spend the rest of your lives together, it calls for a celebration. And how better to do it than slipping on the perfect diamond engagement ring on her finger!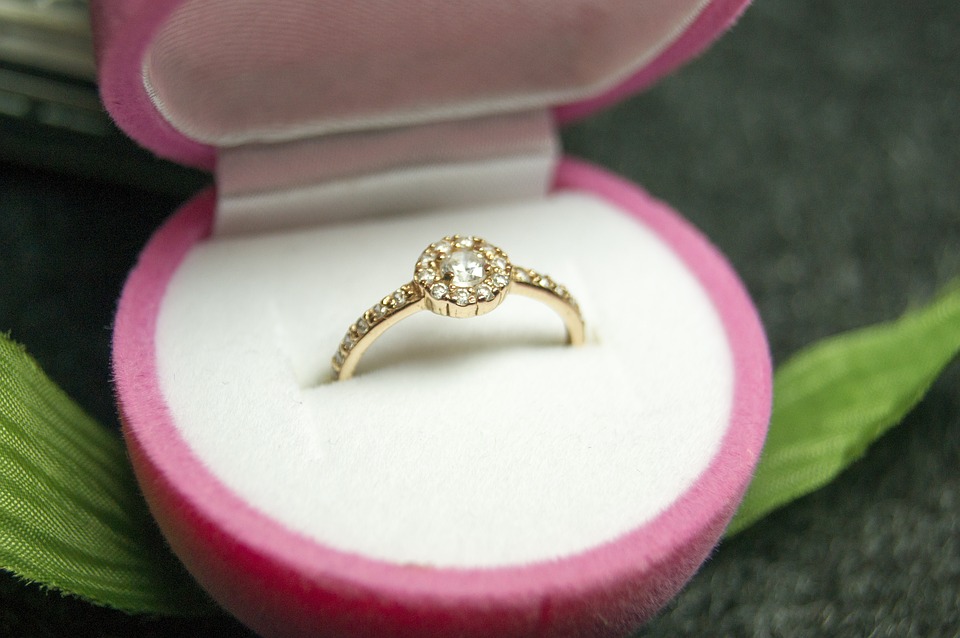 If you are out hunting for the perfect ring, then there are several things you must know. Diamonds are expensive and if you do not know how to spot a quality diamond, you may end up spending a fortune on something that is not worth it.
There are several factors that determine the quality, value and beauty of a diamond. It does not require you to know technical details or gemology jargon to identify a good buy.
Here we list a few tips you can keep in mind when buying a diamond engagement ring for your soon-to-be bride.
Plan your budget and decide upon the maximum limit that you can afford to splurge.
If you are vague about your budget neither will the jewelry salesman be able to guide you nor will you be able to choose a ring that is best for your requirements. So decide on your budget right in the beginning of the buying process. If you want to make it memorable for your girlfriend, you can also look up matching necklace designs.
Once you have arrived upon a comfortable budget, the next task is to research about diamond quality and desirable specifications. There are many websites that give authentic and reliable information on this matter.
A diamond should sparkle and shine under all light conditions. Do ensure that you check your preferred rings under different light conditions.
This is a basic and simple, but all the same important, rule in diamond buying.
When deciding upon the shape of the diamond, it is important that you take into consideration the preference of the recipient of the ring as well. If she makes that decision for you, then there is nothing much to learn about this feature. On the contrary if you want to keep things as a surprise, then do brush up your skills.
Round shaped diamonds are the most popular and are more expensive than other shapes. Round diamonds are superior to other shapes in most aspects including brilliance, clarity and light performance. They reflect light the most and are most sparkly. So if that is important for your girlfriend, do consider round shaped diamond for the ring.
If you want something different without compromising on light performance or brilliance, the next best option is princess cut diamonds. Though technically they are not on par with round diamonds, it is very hard to spot difference in brilliance or sparkle. Princess cut diamonds cost marginally less than round counterparts, so it is a good option for budget-conscious.
Oval, cushion, marquise, radiant and asscher are other shapes that suit engagement diamond rings. You will also notice that less traditional shapes are also priced lower.
Carat is one of the most important C's that determine diamond quality. Many buyers prefer a larger sized diamond to a better cut one. It comes to whether you want to trade off quality for size or vice-versa. This is important if you want to prevent overshooting your budget.
1 carat is equal to 1/5 gram, and it does not have much correlation to the size of the diamond. A .5 carat well-cut diamond will look bigger than a 1 carat poorly cut one. So do not spend more on a diamond that in the end may not look as nice as you hoped for.
Typically .5, 1, 3/4 etc. are popular carat weights. So if you go for something that falls slightly short of it, say .9 carat instead of 1, then the per carat price may work out to be lesser than in popular weight varieties.
Highly skilled diamond cutters are most prized in diamond industry. Cut grades of Very Good and Excellent require several man hours of work, and consequently are priced higher. These grades are especially recommended if you are buying round or princess shaped diamonds. If you compromise on carat weight you will be able to buy the most brilliant diamond for your lady.
If you want a bigger sized sparkler, then cut is where you can compromise. Fair or Good grades of cut are sufficient if you are going for fancy shaped diamonds. They may not have the brilliance of superior cut ones, but you will be able to buy a larger diamond and is the best option if size is a priority for you.
The colour of the diamond is another thing that you need to decide when buying one.
Colourless diamonds are the most sought-after and valuable. Colour grades are hard to differentiate and many a time even most trained gemologists have a hard time spotting variations.
G-J grade diamonds give the best value in colourless diamonds. If you are buying larger size diamonds then go for colour grades G-H, because colours are easier to detect in large diamonds. If you are buying a diamond of less than 1 carat, then go for I-J colour grade.
Here again the prominence of cut comes into notice. Colours are less detected in well-cut diamonds because of their sheer brilliance and superior light performance.
Get Clarity on Clarity of Diamond
Clarity is used to grade imperfection in diamonds. If you want a perfect diamond with no imperfections, go for VVS2 or better diamond. Only a very small percentage of diamonds sold fall into this category, and are extremely expensive.
VS1-VS2 range is the most popular range for clarity grades. You will find it impossible to detect flaws in a diamond in this range.
If you are buying a diamond of more than 1 carat weight, go for SI1 clarity grade. A diamond of lower than 1 carat will look best if clarity is SI2 grade. SI1-SI2 range is the most popular for diamonds and is also the most affordably priced.
Brilliant cut-diamonds like round, oval, princess, marquise, cushion and pear hide imperfections more than step-cuts like emerald and asscher.
If you are buying a diamond above 2 carat in weight, do not compromise on clarity.
Conclusion
Now you have a fair bit of an idea about the 4 C's – Cut, Clarity, Colour and Carat. This will make it easier for you to shop around. Also, do ensure that you make a couple of visits to the store and check out several options before deciding upon the perfect ring. You can also consider buying from one of the many reputable and popular online stores.