Proper implementation is essential if you want your e-learning course to be a success. It is important to adequately plan for all the factors that will play a role in the execution of your online course, such as the identifying the project leaders and what their responsibilities are, enumerating the tasks, and calculating the costs. In this article, we will be discussing the seven key elements that are necessary for a successful implementation of an e-learning course.
Aligned Objectives
Your project's objectives should be aligned with the objectives of every department in your organization. One way to ensure that all of your objectives are aligned is by coordinating with the managers, gathering their department's respective objectives, and making sure that the e-learning course is in line with these department's goals. Some questions you may need to ask during your coordination with the department managers are – How much return on investment does finance aim to reach? Do the online course requirements fit within the capabilities of the IT department? Is the course design in sync with HR's career development program?
Learning Management System (LMS) Implementation Plan
Your e-learning implementation plan should take into consideration the various LMS components, including the server and data base architecture, applications to be installed, server bandwidth, safety and backup plan, and disaster-recovery plan. Other things to be considered are on-going processes, such as server maintenance plan, software updates to be installed, and user support.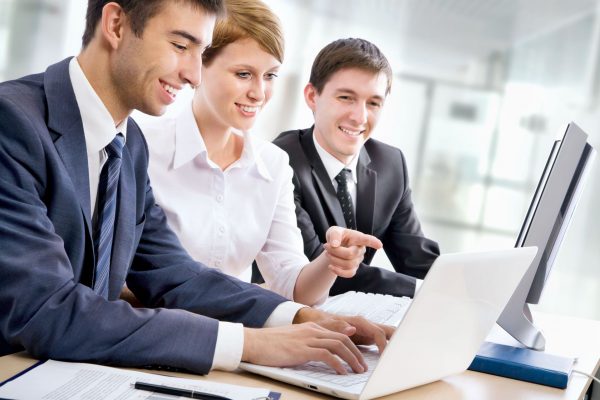 Reliable Team Leaders
A successful implementation is impossible without the support and commitment of team leaders – people who are directly responsible for the implementation and decision-making of the e-learning course. It is vital to have a project leader who will ensure that the plan is implemented within the agreed period, using the planned resources and scope. It is also important to get the support of management representatives and employees from all the groups that will benefit from the project, such as HR, Finance, and Operations. Of course, IT support is critical in making sure that the preparation of hardware, software, systems integration, and LMS are all executed properly.
Standard Methods and Procedures
Standard methods and procedures are put in place to make sure that expectations and objectives are met. These methods and procedures need to be clearly detailed and adherence to these must be stressed to all the teams involved. Compliance with established performance metrics should be monitored regularly in order to appropriately evaluate the individuals involved and to promote accountability.
Risk Management Plan
When implementing an e-learning platform, it is always best to be prepared for the unexpected. There is always a possibility that things will not turn out as planned, and a well thought out risk management plan will help keep things under control in every implementation phase.
Training Timetable
The training schedule should be prepared based on training needs, which is determined during the planning phase. Prioritization plays an important role in creating a training plan that will be easily understood and absorbed by the employees.
Communication and Promotion Strategy
Create awareness and understanding of e-learning in your company, and entice your employees to complete the course through incentives or recognition. A great course will not necessarily be a success right away. It will take some effort convincing employees of the value of your online course and helping them understand how to best utilize it to their benefit.
With the right planning elements, you are better equipped to implement your e-learning course. This will be a very busy phase, but one which will help you and your organization produce more productive and competent employees.
Michelle Gonzalez has been writing for SMEs across the United States, Canada, Australia and the UK for the last five years. She is a highly-experienced blogger and SEO copywriter, writing business blogs for various industries such as marketing, law, health and wellness, beauty, and education, particularly on e-learning platforms such as www.teachable.com.