Toronto. Do you think that this is a good choice for your next weekend? Absolutely right! Toronto is just a fantastic city which has much to offer you.
This is the largest city and an important economical center of Canada. This is the place where you can see a unique connection of old and new, of antiquity and modernity.
Everyone who has ever been to Toronto wants to come back here again.
You won't find such amazing sights anywhere else as in Toronto. Glittering skyscrapers, beautiful parks, unusual old buildings and a plenty of other incredible attractions – there's everything you need to spend an unforgettable weekend.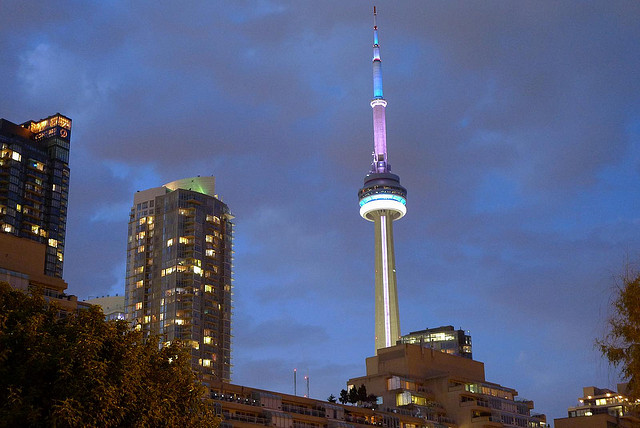 Well, let's start our journey…
The CN Tower
CN Tower is considered to be a symbol of Toronto and until 2007 it was the highest single-standing building in the world. The height of the tower is 553 meters which is 2 times higher than world-known Eiffel Tower.
CN Tower is the "most visited" attraction in Toronto – over 2.2million visitors every year. Andit'snotwithout a reason!
A high-speed elevator takes you to the spacious observation deck, where you can enjoy fantastic views of the city and surroundings located 120! kilometers from the tower. The major interesting thing is that the bottom of the observation deck is made of transparent glass, so incredible feelings are guaranteed.
In addition, here you can also visit a revolving restaurant (at the height of 351 meters) or try to get more thrills walking (hands-free) by the open cornice of the observation deck.
Location:  301 Front Street West, Toronto, ON M5V 2T6, Canada
GPS Position: 43.641943, -79.386754
Prices: observation deck – adults $28, children $21; Edge Walk – $175 (13+)
Hours: daily 9am-11pm
Casa Loma Castle
If you cannot imagine your life without the medieval legends and historical novels is your favorite tool which helps you to fall asleep – you should certainly visit the Casa Loma!
Casa Loma is one of the few castles of Toronto built at the beginning of 20th century. Located almost in the city center, it looks defiantly and at the same time impressively against the backdrop of modern buildings around.
Casa Loma consists of 98 rooms including a huge library, a fireplace and unfinished swimming pool. Near the castle there's a beautiful park where you can walk and relax. In the castle you can also find some secret passages, one of which, for example, connects the house and the stable.
And don't forget to catch some pictures on the background of this amazing beauty!
Location: 1 Austin Terrace, Toronto, ON M5R 1X8, Canada
GPS Position: 43.678237, -79.410281
Prices: adults $24, children $14; parking – $3 on weekdays, $10 on weekends
Hours: daily 9.30am-5pm
Toronto Eaton Centre
Toronto Eaton Center is an enormous shopping mall which covers an area of a few city blocks. 15-storey multilevel building is located on the famous street of the city – the Yonge Street, and greatly stands out from the other buildings. The interior of this shopping center is decorated with beautiful animal sculptures including huge flock of ducks flying over the heads of visitors.
At the mall you'll find boutiques of the most world-wide famous brands, cozy cafes and large restaurants. Here you can spend the whole day and, of course, a lot of money. Fans of high-quality shopping should pay attention to such Canadian clothing brands as Mercy, Lida Baday and Ross Mayer, which gained lots of podiums all over the world and differs for its reasonable prices.
Location: 220 Yonge Street, Toronto, ON M5B 2H1, Canada
GPS Position: 43.653710, -79.380321
Prices: free
Hours: Sunday 10am-7pm, Monday-Saturday 9.30am-9.30pm
Toronto Zoo
Toronto Zoo is one of the 3 biggest zoos in the world. Impressed? Well, currently the zoo keeps over 5,000 different animals (including invertebrates and fish) of more than 450 species. Covering 287 hectares, it's divided into seven geographic regions: India, Africa, America, Tundra, Australia, Eurasia and the Canadian region.
A part of the inhabitants of the zoo is indoors, and other pets – are outdoors. You can explore the outdoor animals using a special zoomobile – a train with 4 wagons.
Toronto Zoo has also such interesting entertainments as Children's Zoo and the Coastal Theatre.
This is a wonderful place for you and your kids!
Location: 2000 Meadowvale Road, Toronto, ON M1B 5K7, Canada
GPS Position: 43.820075, -79.179031
Prices: adults $23, kids $14, child (under 2) free; parking $10/vehicle
Hours: daily 9.30am-4.30pm
Royal Ontario
Royal Ontario is the next "must visit" spot in Toronto. This is not only the museum – this is a delightful architectural masterpiece. The building is constructed of metal and plastic and it looks like a huge crystal, which aspires to fly up.
Today the Royal Ontario Museum keeps more than 6 million of different items from around the world: here you'll see the remains of prehistoric animals, carpets made by Asian nomads, weapons, the works of the European art, and even a variety of Buddha statues.
And for sure you'll get unforgettable impressions when you visit the Royal Museum.
Location: 100 Queens Park, Toronto, ON M5S 2C6, Canada
GPS Position: 43.668304, -79.395682
Prices: general admission – adults $16, kids $13; Fridays – adults $10, kids $7
Hours: Monday-Thursday and Saturday-Sunday 10am-5.30pm, Friday 10am-8.30pm,
In this article we told you about most interesting sights of Toronto and how to find them using a rental car. Why rental car? Because it's comfortable, fast, cheap and easy. You can make an advance booking at Toronto Airport and select any car you want.
Then set the required GPS position and enjoy your trip.
Get ready to discover the best of Toronto!
Author Bio: Lily Berns is a freelance writer who enjoys blogging about different cities and also giving useful travelling tips