If you are a swimmer, then you are certainly well acquainted with the rejuvenated feeling that you get after a swim in the cool waters of the pool. Swimming is one exercise that people love to practice and look forward to all the time. Swimming keeps your body healthy like other exercises but also freshens up your mind, which is something no other sports activity can possibly do. Having said that, it is also true that swimming leaves a not so desirable effect on your skin and hair and for the women swimmers, this often becomes a matter of great concern. Pool waters have chlorine and swimming on a regular basis exposes your skin and hair to several impurities, making these vulnerable to increased loss and damage. However, the good news is that these effects can be prevented and treated with some quick and some long-term solutions. Here is a list of hair and skin care tips for you to continue with your swim lessons in Chandler AZ with the assurance that your skin and hair will remain as beautiful as it is today.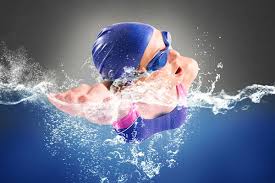 Rinse Well Before and After Swim – Swimmers often complain of getting dry skin problems rather early in their life. To prevent this, make it a habit of taking a quick shower before entering the pool. This will hydrate your skin's topmost layer, thereby, preventing it from soaking up the chemicals in the water. The same theory applies for your hair too. Now, here is an additional tip for those with blonde or colored hair. Always apply coconut oil to your hair before the plunge. The oil will hydrate and moisturize your hair cuticles properly enough to prevent the harmful chlorine in the water from turning your hair green. Rinsing well right after the swim is equally important to get rid of all the chemicals quickly.
Use Chlorine Neutralizing Body Lotion – While rinsing pre-swim can prevent you from getting too affected by chlorine, the latter is bound to cause some irritation on your skin if you are unfortunate enough to have a sensitive skin. The solution is a chlorine neutralizing body lotion that can save your skin from getting any irritation or itchiness during or after the swim. The body lotion is equally beneficial for swimmers suffering from eczema as it prevents skin conditions from flaring up. As a regular swimmer, make sure incorporating this lotion in your daily skin care routine.
Cleanse Your Skin the Right Way – Whether or not you are conscious about your skin texture and quality, if you a swimmer, you must care for your skin and cleanse it regularly. Aqueous creams with aloe vera are available out there for the sensitive skin of the swimmers. Use these to help your skin restore the moisture after you are out of the chlorine.
Eliminate the Chemicals from Your Hair – The chlorine in the water causes substantial damage to your hair too. So, it is always good to use shampoos that contain the EDTA, which works well in washing off the chemical residues from your hair. If your hair has become too dry and rough with split ends, use a combination of apple, cider and vinegar to restore the usual softness and shine of your hair. Last but not the least, condition your hair after each wash and make it a regular practice.
Dry Yourself Fully – After you have rinsed well following a swimming session, you are usually in a hurry to get dressed. However, more often than not, it seems difficult to completely dry ourselves and hence, we start putting on clothes on a partially wet body. This is extremely undesirable because the residual water becomes the cause of irritation for especially, one with a sensitive skin type. Dry yourself completely even if that takes 10 minutes more of your time. Also, use talcum powder in parts like feet and upper body, which usually takes time to dry.
Keeping the above-mentioned tips in mind helps you take considerable care of your hair and skin. After all, it is as important to keep your hair and skin healthy and shiny as it is essential to continue with your swimming lessons and emerge an expert swimmer with enviable fitness and freshness.