As the Internet of Things continues to add more and more devices such as appliances, home networking has never been more commonplace. However, there are many things you can do to make sure your network is operating at peak performance. Everything from networking cables to the wireless router you use can be utilized to improve how well the Internet works in your home. If you subscribe to package deals of TV, Internet and phone, you can add more the experience by keeping it organized.
Wireless Router Settings

By learning how your wireless router works, you can add a layer of protection as well as filter unwanted websites from appearing on various computers. Many routers offer help files that can guide you through various settings. However, researching your specific brand and model on the Internet can give you ideas of best practices. Implementing settings such as MAC Authentication as well as a WAP key can exponentially increase your network security. Control settings are available in most wireless routers that allow you to deny keywords and names for websites during specific times of the day. You have a great deal of control over what is done on your network if you take the time to learn how to use the router.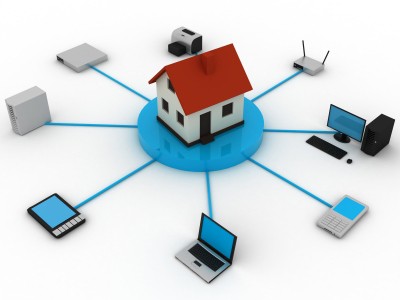 Too Many Wireless Devices

One problem that wireless routers have is the complications that could arise with too many devices in your immediate area. Often times, cordless land-line telephones knock our Internet access when they ring due to the close frequency for transmitting information. Try not to have too many wireless devices in a close proximity as the signals can interfere with each other. One way to avoid problems like these is by using wireless routers equipped with "CleanAir" technology. This improves signal strength between router and devices by eliminating background frequencies.

Overheating Equipment

Computer equipment works best in temperatures below 70 degrees Fahrenheit. Do not place routers or switches near heating ducts or other locations that can increase the ambient temperature of the unit. Tucking them in cabinets and other enclosures can cause complications as well. It's best if these devices are in the open where heat can easily be dissipated. Prolonged exposure to higher temperatures could cause connection problems as well as complete device failure.
Ethernet Cables

A good practice for greater networking efficiency is by reducing the lengths of Ethernet cables you use. Although most home systems may be able to reach 328 feet before there is signal degradation, shorter runs promote less travel time as well as a cleaner workspace. It can be incredibly easy to create a mangled mess of cables behind computer equipment, smart TVs and other Ethernet-ready appliances. If you do not wish to cut and re-head a cable yourself, using ties to clean up cable messes can prevent accidents as well as make cleaning much more manageable.

These are only a few ways that you can improve the efficiency of your home networking. As you can see, most of these can be done by virtually anyone without technical skills. Don't merely set your Internet-capable devices up without knowing how to keep your home from becoming an intermingled mess of equipment and frequencies.