Commercial real estate classes available online provide students the opportunity to learn at their own pace, from the comforts of home, whenever the time is right for their needs. While those perks all entice students to complete their real estate classes online, there is far more reason to choose the virtual world for studies.
According to research compiled by the Babson Group, approximately 7.1 million students used online education of some sort, many of whom later went on to earn their degree using the same method. Real estate classes online have significantly grown in popularity over the past several years, with the numbers anticipated to rise.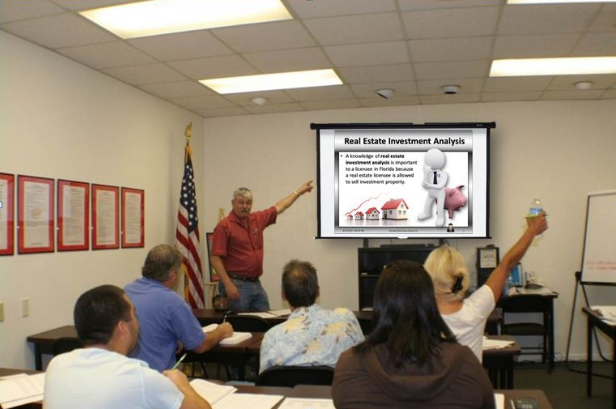 To complete commercial real estate classes online, you simply need the desire to become an agent, a computer with internet connection and a bit of time to devote to your studies and class completion. Although the length of time needed to complete the courses varies from one class to the next, expect your license in your hands in as little as a few weeks of time.
Costs
Undergraduate education programs cost considerably less than the costs of the traditional courses offered at brick-and-mortar schools, per U.S. News and World Report. Anyone without the luxury of the money tree out back in their lawn can appreciate lower tuition costs. In addition, the cost of obtaining real estate classes online is an average of 75% less than the traditional costs of obtaining a 2-year degree.
Easier
Attending real estate classes online simply makes life easier. For men and women already leading busy lives, the chance to attain a real estate license without the need to sit inside of a classroom for hours on end or missing out on more time with the family is an undeniably pleasurable benefit of attending classes on the web. Online classes are there when you're ready, with nothing more than a few clicks of the mouse necessary to begin your school day.
Earn your License Sooner
Spending time learning the ropes is a necessity if you want to become the best in your profession. However, spending needless hours learning the ropes of becoming a real estate agent simply wastes precious time that you could spend earning money. Attending online classes allows the completion of course much faster, thus you earn the real estate license much faster.
Online Real Estate Classes: A Positive Future Ahead
A career as a real estate agent is one that provides lifelong enjoyment and amazing perks. Choosing to obtain a real estate license online makes things far more exciting and beneficial. Why not earn your real estate license online?
Tags:Commercial real estate classes