If you are planning to have a magical wedding party, at any place in the United States, be it Coconut grove or California, everyone has this craving to fill the whole place up with some bright flowers. For those who can never add enough of flowers in their decorations, here is a list of creative embellishment ideas.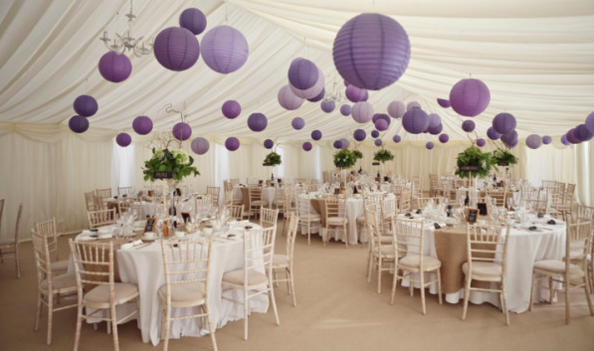 Arrange a magnificent bouquet of various colourful flowers all wrapped into one.
Chamomile, white daisies, scabiosa, heather, raspberries, gooseneck loosestrife and wild sweetpeas complementing each other in a fresh-picked bouquet tied with a yellow colored  bow.
The flowers can not only be arranged in different types of containers like bottles, metallic tins, cream jugs or other kinds of mismatched china and jam jars, but also tied with colourful ribbons to turn an old jar into a beautiful vase. Along with these containers, the aptest flowers that can be used are daffodils, tulips, white hydrangeas and gypsophila. Tall centerpieces decorated with candles which can be made more alluring with flowers.
Another arrangement in centerpieces can be one in which multiple nesting bowls can be filled with floral foam. In each of these bowls placed one above the other the plants that can be arranged are goldenrod, Craspedia balls, olive leaves, lemons, lavender, kumquats and mimosa.
These cherry-colored flowers increase the exuberance on your table. Branches of a fruiting Clementine and the fringed tulips give the impression of an overhang outflowing from the vessel. Other herbs which can be used in the tabletop include carnations, daffodils, ranunculus and sweet peas.
This arrangement presents a unique possibility of mixing stems of flowers like plumes, agapanthus and caspia. One must be careful in keeping a consistency of colors so as to allow flowers to have maximum impact. The placement must be done systematically by keeping the tallest ones in the center. At the outer edges flowers of medium size must be placed and in the end the stems can be added to each one of them.
The filler flowers have to be layer cut with various decoratively used fruits and herbs. Each flower has to be reduced in size to about 4 inches, and the clips of these flowers have to be placed at different heights. In the end, the stems have to be bound with floral tape and then covered with a ribbon. Snip the edges to even out the boutonnieres.
The ceremony path must seem auspicious and pure which can be achieved by including roses on both sides of the aisle. Flowers which can be used on the flanks are bridal wreath spirea, Lepidium, larkspur, and lisianthus.
The aisle runners can again be employed in the background of escort cards at the time of the cocktail hour.
In the preparation of a curtain, to use it as a background for the final ceremony, garlands can be draped and hung from the dowel which is attached to the ceiling. For this, thousands of carnations have to be stranded using a monofilament to create long hanging arrangements.
Pew ends remind one of the old-fashioned churches and can help the couple in personalizing their wedding. At the same time small flower bunches can be tied to the sides of aisle chairs or even hung on the chairs in tiny tealight holders.