As modern children are less active than previous generations, we are continuously reminded about the potential health time-bomb. These days, children are often distracted by many exciting indoor activities, such as endless channel to watch and video games to play. If parents fail to keep this lifestyle in check, they could become sedentary for the rest of their lives. There are many beautiful sports to play and soccer is one of them. Whether it's on the beaches or the secluded grassy plains on mountains, soccer is being played by children of nearly every country.
Parents should have a structured approach to educate children about proper physical activities. They should become willing volunteers to show everything in their lives. They need to know how to warm up properly and develop technical capability. Soccer is a sport that requires steady development of goals and each player has unique roles in a game. In general, children could devote themselves to two hours of soccer sessions each week and as their experience grow, it is quite likely that they will be more encouraged to play more and add additional training time.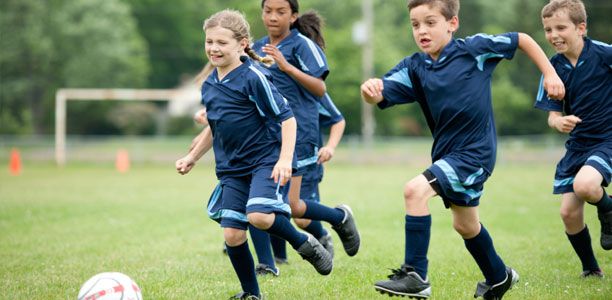 Many studies have clearly shown us that getting kids involved in highly physical sports, like soccer, could help them promote healthy attitudes toward future lifestyle. The number one goal is to make sure children are having fun playing soccer and this could cause them to get more motivated. For children, training sessions should be designed to enjoyable and fun, instead of serious with plenty of punishments. Soccer should be made fun by players who are willing to voluntarily give up some of their spare time to have an involvement in group practices.
If children are having fun, it is no longer necessary to encourage them to take regular exercises. In fact, their new hobby has become a type of physical exercise. If they continue to perform such activity during their adulthood, it is less likely for them to suffer from common health issues, such as diabetes and obesity. Getting our children involved in a physical activity is an investment to improve their future health. In fact, sports skills are also considered as one of the essential life skills that can bring many benefits in later life.
They are also able to learn how to handle adversity, lead people, develop a sense of cooperation, build relationships and stay committed. There are things parents should do to get their children in a local sports club. We should know what degree of commitment is required to properly join the practice session. Parents also need to commute a few times each day to bring their children to the training facilities. There are also some costs that parents need to consider. Some clubs require members to pay, while some only ask for donations. Parents should also be realistic about what their children want out of training and playing soccer. After children have an involvement, parents should also make sure that children stay interested. They should stay happy and thrive in the competitive sports environment.