The worth of a tea bag is judged on the basis of how well it can allow the leaves inside to steep in the hot cup of water. Among the variety of shapes of tea-bags available, the latest claim to fame goes to the pyramid shape.
Pyramid tea-bags are touted as the best shape available for making tea with tea bags. The inventors of the shape, PG Tips, launched a TV commercial in which English comedian Johnny Vegas and his monkey prop dunk a circular and pyramid tea bag in two different cups. Vegas is shown finding the tea prepared with the later more enjoyable.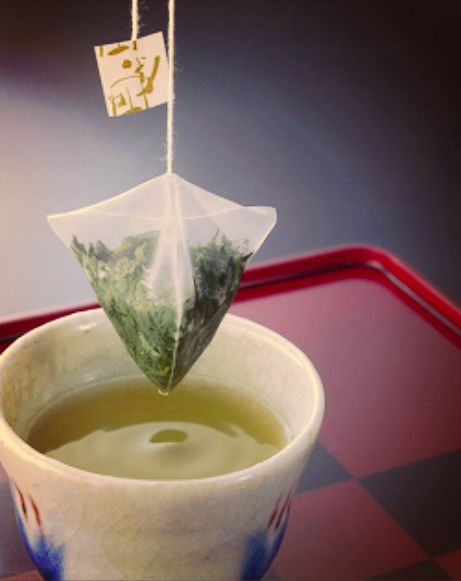 Though Tetley, the makers of round tea bags, dragged PG Tips to  the Advertising Standards Authority declaring that there was none better than Tetley, they ended up with an embarrassment as the authority ruled out their claim. The ASA said, "Unilever provided test results which showed that the infusion of tea, at 40 seconds and two minutes into brewing, was greater when using a pyramid tea bag than when using a round tea bag. We therefore concluded that the ad did not exaggerate the capability and performance of the advertised product and was not misleading."
Clearly, round shaped bags are in for a loss.
When the question of pyramid vs. rectangular was posted on a popular online cooking community, Seasoned Advice,  two opinions were offered as answers. While one said that the triangular shape is just a marketing gimmick and that for a better brew, all one needed to do was to leave in a tea bag longer, the other answer gave a more detailed reason as to why they are better than conventional tea-bags.
It essentially said that since the pyramid shape retained its 3-dimensional shape, there is more space for extraction and so the leaves get a more effective and faster extraction. On the other hand, a conventional shape becomes smaller when is dunked into the cup, which creates a compressed ball of tea, thus, making it difficult to brew well.
It seems that the rectangular variety also doesn't hold much of a scope.
Scope for manufacturers to use the pyramid shape tea bag is due to quality of leaves and more space inside. Their structure has bigger holes in the mesh, allowing for better release of taste. If tea dust is used, they will penetrate the mesh and land in the water, making it an undrinkable cup.
So, all these factors come together into making pyramid tea bags a popular choice, which clearly ranks on top of the quality pyramid!
Have you ever checked out these tea-bags yet? If no, then we suggest you do give them a try. If yes, let us know what you think about them.