Are you thinking about investing in new bi-fold doors for your home? Bi-fold doors can provide a great link between your indoor space and your outdoor space. They not only look great but can provide a user friendly design when installed. If you're looking to invest in them within your home, the following are some of the things you need to consider before purchasing bi-fold doors.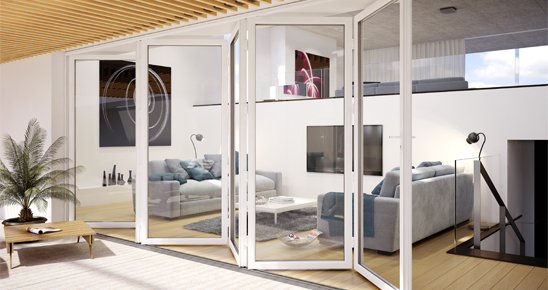 What You Should Consider For Bi-Fold Door Installation
Material Of The Door – The material of the bi-folding door is one of the first things you need to consider. The material should be able to handle outdoor changes in the weather, especially if the door is in direct exposure. The door material you choose is also dependant on the style of home you currently live in and whether you want it to seamlessly fit in or stand out. Choose bi-folding doors that match well with your home but which can also handle any outdoor elements. Your supplier should be able to give you an idea on which doors are best suited for outdoor areas.
Opening Configuration – The opening configuration is also important to consider as it needs to work in line with your day to day life. If it's a door that's regularly used it may be best to consider doors which feature a pane that can easily be closed and opened as a singular unit, along with being able to open the full width.
Contrasting Style – If you're looking to contrast the door style with your current home style, it may be best to work with aluminium bi-fold doors. Aluminium bi-folds can provide a complimentary and modern look within any home. Not only that but they're strong and will last a long time.
Energy Efficiency – Energy efficiency should also be taken into consideration when looking to install bi-fold doors. The more open the doors are, the more they offer in energy saving. Glass bi-fold doors are capable of allowing optimal sunlight in which not only warms a room but reduces the need for lights to be left on. In the winter to keep the cold out a simple thick curtain can help to reduce additional cold from coming into the home.
Installation Work – Before installing a door you may find it'll require preparation before installation. Do you need to pull down part of a wall? Do you need to close off a wall? All these things need to be considered to ensure it's not going to cost a fortune.
Conclusion
The installation of bi folding doors can be a great asset for any home. Whether you want to allow additional light within a home or you just want to increase your living space quality, installing bi-fold doors is a great option. Before purchasing however make sure you take everything into consideration first to make sure you know you have made the right decision. So are you still incorporating bi-folding doors within your home? What type are you looking to get?