Exclusive storage lockers for sale! – A phrase that might excite all those who are either willing to dive into a new set of storage solutions or are planning to reinvest in a set of storage solutions. A storage locker finds its prominence in places where there is a legion of things that need to be properly arranged and stored so as to avoid cluttering the surroundings. Moreover, if you place all your belongings inside the locker you can be assured of its safety. One such place that could witness the significance of storage locker is the Water Parks.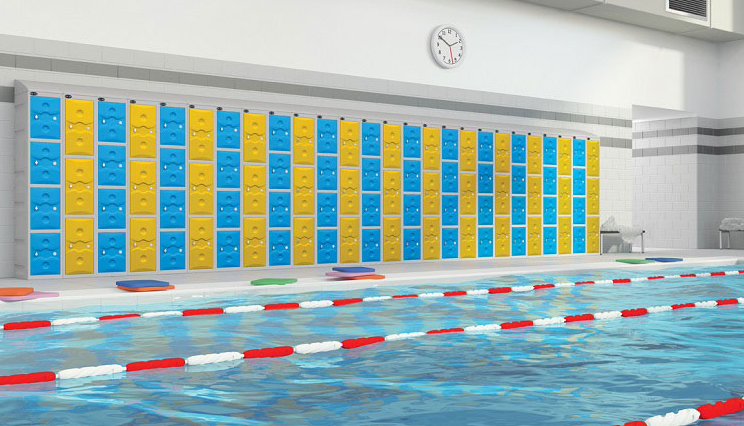 Why should you install storage locker in the water parks?
A storage locker for water parks is specifically designed keeping in mind the intensity of the use as well as the type of surrounding in which it would be installed. Let me make you aware of the benefits that a storage locker is entitled to bring in a water park.
1. Aces up the convenience factor
Carrying your personal stuff could cause hindrance with your enjoyment routine.
Holding on to all your personal belongings along with enjoying the different rides at the water park always proves to be a pain in the neck. To eliminate this pain, a storage locker should be installed allowing the visitors to enjoy their day without bothering about their belongings.
2. A neat and clean contour
A storage locker ensures that all the things are assigned a place of its own eliminating the formation of unnecessary clutter in the premises. With human beings, you will have their belongings along with them and a storage locker is a standing proof that will give all the visitors a necessary place to store away their belongings. When all the things are kept in its place the surroundings look neat and clean.
3. An ode to security
A storage locker always comes with a lock and key, ensuring the safety of things that it accommodates within itself. The visitors now need not worry as all their belongings are kept safely in the storage lockers.
4. Keeping up with time
Assigning locker with a time limit will encourage the visitors to adhere to the timing policy. Anyone who exceeds the time limit will be charged accordingly. This instills a ray of discipline in the public place.
On a final note, the above-mentioned are some of the prominent points justify the need to install lockers in water the park. They not only provide a secure place for storing things but will also make sure that there are some law and order in the premises.
How to select the best storage locker for a water park?
After we have skimmed through the benefits of gracing the water park through storage lockers, the next thought is how to select the best locker solutions at reasonable prices. Let me walk you through the different points that will help you in choosing the best storage lockers at considerable prices.
1. Prioritize your needs and wants
Needs and wants – the two different dimensions of a decision needs to be properly understood so that the final decisions are seldom affected. You might want a very classy and well-defined storage solutions but the area and temperature might not be coordinating your desire to install such lockers. Hence it is always advisable to list down your needs and wants and accordingly make your decision.
2. Make a rough estimate of the space
Another thing that you need to consider is the availability of space. Sketch out the space that is available and purchase locks that will easily fit the predefined space. Always make sure that you leave out some space for commuting otherwise, the entire area will look congested if you utilize it exclusively to fill it with lockers.
3. Check out the variety
'Variety is the spice of life'. Indulge in some variety. To give a peppy look to your decor indulge in some vibrant color and texture. Look out for some different and enigmatic options so that you do not end up with the mundane style list of lockers.
4. Look for other options
Do not look at one place only, take a dig at different places so that you can make the best possible choices. There are many stores that offer the best of storage lockers for sale. Go through them and then take a decision.
5. Different lock types
We witness variety in not only the size, shape and design of a storage locker but also with the locks. Padlocks, electronic locks, combination locks and many more of such locks to the list of varieties. Think of the advantage and disadvantage of each and every lock type and accordingly make a decision.
6. Do compare
Before you finalize your decision check out other options so that you do not miss out on something valuable in nature. Compare – price, quality, features and many such attributes of a well-contoured storage locker, leaving no stone unturned.
Final Note
A water park is a place where you will find many enthusiastic people who have come to bring about a change in their mundane lives. The place should not only be an epitome of amusement, but should also encourage security of the visitor's belongings who have come to have a great time and also play an important role in maintaining a clutter free environment. A storage locker is one of the best and most admired pieces of amenity to bring in all the above-mentioned facilities to a water park.