An e-cigarette is also known by the term personnel vaporizer or electronic nicotine delivery system. It is a battery-powered vaporizer, which gives similar feeling as to tobacco smoking.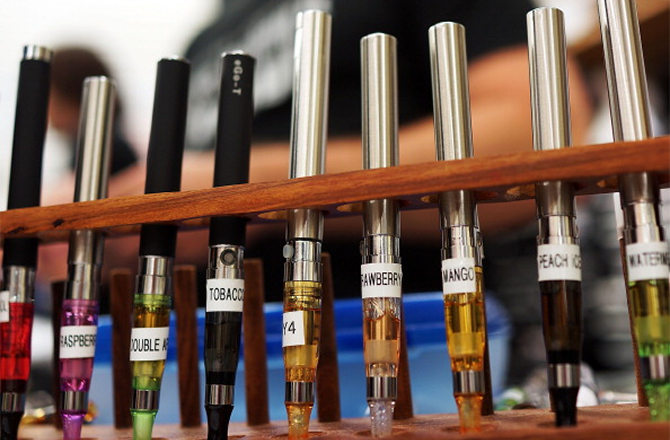 There is no tobacco in Electronic cigarette, but it contains little amount of nicotine from tobacco plant, which is responsible for producing vapor technically known as aerosol.
Smoking traditional cigarette is not healthy anymore. According to US centre for disease control (CDC), approximately 443,000 American die every year from tobacco use.
Through CDC survey it is been found that 68.8 percentage of smokers wish that they could quit smoking and 52 percent have also tried to quit, but 6 percent manage to do so. Fortunately for a smoker there is perfect alternative is been found that is e- cigarette.
Parts Used in e-cigarette
By knowing the different parts of this device you can easily figure out which e-cigarette is right for you.
The most important part of the e-cigarette is rechargeable lithium ion battery. It is the largest part of the e-cigarette. The size and voltage output is totally depend on how long you like to "vape" which is commonly known as smoke.
Cartomizer is also an essential part of e-cigarette. It is further divided in to two parts that is atomizer and cartridge. Cartomizer is mounted at the end part of the battery. It is the place where you put your mouth. Cartomizer contain cotton like material, which is used to hold the e-liquid and the heating element atomizer boil the e-liquid to produce vapor (smoke).
E-liquid is primarily made up of propylene glycol. It is also used in asthma inhaler and deodorant. E-liquid is also mixed with other ingredient including some amount of nicotine.
Types of E-cigaratte
There are three different classes of e-cigarette. Each has its own advantage and disadvantages, which are outlined here.
Mini E-cigarette
Mini e-cigarette is mainly used by the newcomer's because it's model looks and feel like actual cigarette. Most minis are operated automatically without an on/off switch when inhaled.
      Advantage
It gives similar feeling as an actual cigarette.
Cheapest way to get started
Small and cautious
Easy to carry
Auto and manual, both types are available.
     Disadvantage
It may not provide sufficient performance for heavy smokers.
Battery does not last long.
Auto batteries used by it can be easily destroyed by liquid leaking.
Mid size E-cigarette
Mid size, e-cigarette is look like slim cigar. Most of the mid size e-cigar is manual, very few is auto batteries are made.
      Advantage
Not too expensive to get started
It gives same feeling as a small cigar.
It provides good performance for one who is moving to e-cigarette, mainly good for newcomer.
      Disadvantage
Ultimate performance is not possible as battery power is not sufficient.
Slightly more expansive to get started
Cheap chargers may cause fire while charging.
APVs (Advance Personnel Vaporizers)
APVs are advanced form of e-cigarette for those who want ultimate performance. This type of e-cig is mainly used by the person, who is badly addicted to tobacco or cigarette as alternative.
 Advantage
The large battery delivers with the advanced function and features.
Battery life is long almost 8 hours, some can even last for a day.
It provides sufficient performance for the addicted smoker.
Disadvantage
It is too expensive.
These are all manual model. This is main disadvantage for newcomer.
Some care is needed for charging batteries because battery contains large amount of lithium ion.
Disposable E-cigarette
In disposable e-cigarette, you need not to assemble anything and there is no headache of recharging battery. Disposable e-cigarettes offer an ideal choice for first time electronic cigarette users. With their compact and ready-to-use design, they provide comfort to the ex-smoker.
For those who are looking for simplicity and convenience disposable e-cig is good choice for them.
 Advantage
Simple and convenient
It is cheap.
No need of recharging and refilling the e-liquid
Disadvantage
As comparison to rechargeable e-cig, it has weak performance.
Low quality
You will not find more option in design, flavor, and quantity of nicotine.
Rechargeable E-cigarette
Rechargeable e-cigarette are perfect for the regular smoking as it allow you to reuse your e-cigarette simply by replacing the cartomizer when it is empty and recharging the battery. The better rechargeable e-cigs are designed for the tobacco users who are looking to finally quit smoking cigarettes and for all those who just want to enjoy the smoking.
   Advantage
It provides higher quality product.
It has many more options like design, flavor, accessories, and level of nicotine.
It gives you a feeling of smoking a real cigarette.
Lower overall cost (year wise).
   Disadvantage
High upfront cost (cost of starting kit).
May be you have to refill e-liquid and recharge the batteries every day.
Which option is best rechargeable cigarette or disposable cigarette?
The rechargeable electronic cigarette is not available in all the places whereas disposable cigarette is easily available. The cheaper rechargeable E-cigs have been lately introduced in the market at your local convenience stores. The rechargeable electronic cigarettes help the person who is looking forward to give up smoking with authentic intention.
If a person needs to choose among the disposable or rechargeable e-cig, on the basis of their effectiveness as an alternative to real tobacco cigarettes, then the winner in these 2 categories will be rechargeable electronic cigarette.
The reason why rechargeable e-cig has a higher success rate over disposable e-cig is that it offers various levels of nicotine. This advantage is not available in case of disposable e-cigarettes. This provides an option for smoker to choose the right level of nicotine as per their choice and health. This gives smokers a better chance to finally put down those tobacco cigarettes for good.
You can view and buy any type of e-cigarette by clicking on nucig website. It has big collection of e-cigarettes from all popular brands. You can buy e-cig as per your choice and pocket.