Aggression and violence are likely to happen during contact sports. Devastating physical contacts could happen in soccer, football, basketball and hockey. There are different degrees and levels of violence in sports, but with increased intensity, the potential dangers inflicted could increase. Repeated, intense body contacts are even often considered a common practice in some sports, such as rugby and American football. Defenders in soccer team are instructed to perform tackles and injuries nearly happen in any match. Athletes are simply paid and told to perform various body contacts. Some of the physical contacts could be considered as borderline violence and may not yet considered as a violation of rules, depending on the sports. Players could simply consider this as a part of the competitive strategies.  This may include little nudges and elbows during soccer match and brush backs performed by basketball players. They could also be part of the "mind-playing" strategies, to intimidate the opponents and perhaps, instill a degree of fear in them. A higher level of physical contact already violates any rules of sports and this could lead to penalties and suspension from participating in subsequent matches. Flagrant fouls, sucker punches, late hits and cheap shots are things that players do that can potentially injure their opponents.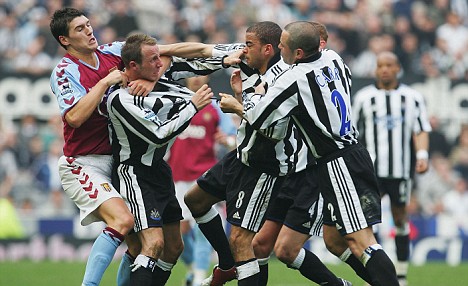 The most intense form of violence in sports could already be categorized as criminal offenses and can be potentially further followed up by legal proceedings. In this case, athletes have an intention to injure opponents in order to incapacitate them during the game. Baseball pitchers may intentionally throw the ball to the neck and head region to incapacitate batters. Hockey players could also swing their stick to the opponents as a weapon. It is important to understand what really happens during a sport match. Often, injuries inflicted are unintentional and the severity of the violence.
Violence also occurs among the spectators and this could be determined by the size the crowd and their seating arrangements. The composition of spectators could also determine the likelihood of violence, this include ethic mix, social class, gender and age. The meaning and importance of the sporting event may influence the possibility of violence among them. There could also be a history of feud between supporters of two teams. In general, violence among spectators can be prevented or controlled with effective crowd-control strategies that involve the use of surveillance cameras, attack dogs, police and others. Spectators should also be screened and alcoholic drinks should be banned from the area.
We should be aware that, violence is actually allowed to some degree in sports and it actually becomes the norm. Players simply need to do anything to improve their advantage and put pressure on their opponents while being careful not to cross that invisible line. Subtle violence is often considered as a tool of intimation and this could have an impact for specific athletes. Acts like slamming racquets and bats, while yelling to the opponent for minor fouls could be considered as verbal violence and could be intended to intimidate opponents.