Industry figures show the carbonated drinks sector is the biggest in the UK, claiming 43% of market share. Traditional cola remains the best-selling soft drink, but demand is rising for low calorie, sugar-free alternatives and healthy options.
According to the Daily Mail, we are consuming more carbonated drinks than ever before – on average, 25 gallons each a year, and they could be damaging our health.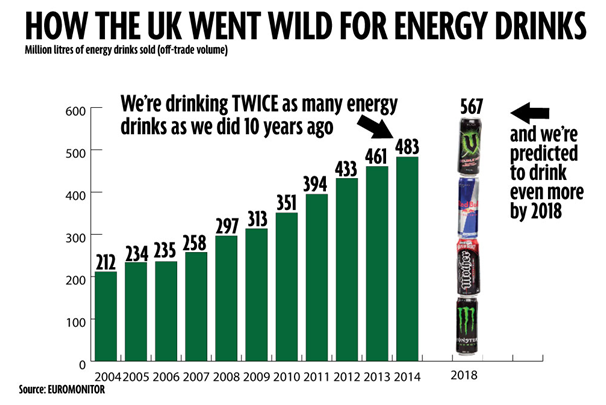 Energy Drinks
Energy drinks such as Monster and Red Bull are becoming the beverage of choice for young people, claiming a large chunk of the market. A huge part of this popularity comes from the massive marketing spend with high-profile sponsorship deals and media coverage. Whilst there is some concern about caffeine levels, energy drinks are fast overtaking traditional carbonated drinks.
Coconut Water
Once the preserve of exotic holidays, Coconut water is one of the fastest-growing drinks categories in the UK, driven by its natural hydrating qualities, nutritional benefits and great taste. With several celebrity endorsements, it is seen as a trendy and healthy alternative to sports beverages.
Bottled Water
According to the Independent, plain old bottled water is set to overtake fizzy soda as world's most popular drink. The massive growth in the water category is driven by growing health concerns over high-sugar soda. You can use commercial bottle coolers to keep your drinks chilled and ready to serve. Click here to review a selection of bottle coolers by Fridgefreezerdirect.
Wine
When it comes to alcohol, wine has overtaken beer as the most popular tipple in the UK. It has become a mainstream option rather than a drink for connoisseurs and is enjoyed by consumers across the ages and social classes. Australian wine enjoys the largest market share in the UK, closely followed by France and Italy. Despite a thriving industry closer to home, the vast majority of us have yet to discover English wines.
Health issues and changing lifestyles are driving shifts in consumption, with consumers branching out to other drinks. Whilst Coca-Cola retains its place in the lead, demand is forcing manufacturers to reduce the sugar and calorie content in soft drinks.
Shoppers are actively seeking healthy alternatives, and there will be a growing demand for low-sugar fruit juices, bottled waters and iced tea and coffee.