Every woman out there is self conscious and self aware about her body. It is a proven fact that every figure is different and two bodies can never be the same. It is important that each and every woman out there should and must be able to enjoy herself in her body. Thankfully, the fashion industry has something for everybody. There are hundreds of styles and designs available so that people can choose according to their personality.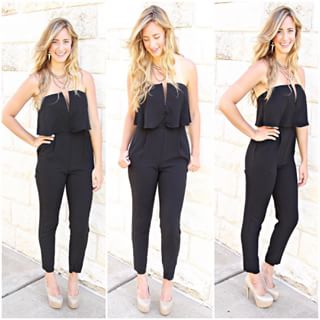 Jumpsuit is one of the most popular fashion trends these days. Jumpsuits are suitable for women of all size and shape. If you are insecure about your body weight and you think jumpsuits are not the best choice for your style, then let me tell that you are wrong. Jumpsuits come in different shapes, designs and patterns. You can find a suitable pattern and design which not only complements your body but also matches your style.
To clear out the assumption that jumpsuits are not suitable for everybody and are not a must in your wardrobe, we will discuss some of the greatest advantages of owning and wearing a jumpsuit. Some of them are mentioned below for your benefit:-
Jumpsuits are suitable for every occasion and function that you go to. The pattern and design you choose just needs be appropriate for the occasion and venue. You can wear your jumpsuit to work, casual day, for a party, on a date with someone special or even for shopping. Jumpsuits are classic, stylish, fun and elegant for every occasion.
Many women out there have a misconception that jumpsuits are only suitable for women with well toned bodies. A jumpsuit is suitable for women of all body types. The key is to find the perfect type of jumpsuit for your body. You can choose tight or loose or anything that feels comfortable and complements your body type.
Jumpsuits are one of the very few fashion clothes which are suitable for every season. They are like a pair of jeans in your wardrobe. You can wear them anytime of the year with style. You can choose different colours and patterns for different seasons, but you can rock your jumpsuit anytime of the year.
Jumpsuits are very comfortable and as a woman you do not have to constantly worry about wardrobe malfunction. You can combine jumpsuits with heels or even your comfortable sneakers. All you have to do is carry your outfit with confidence and comfort.
Different textures and forms –
One of the best things about jumpsuits is that they are available in different styles, forms and textures. You can make a choice according to your body type, comfort level, seasonal or even style statement. You can own more than one jumpsuit in different patterns and look stylish in it.
You can buy womens clothing online in many online websites and can find a whole range of jumpsuits there. All you have to do is make a choice a smart choice and then carry your jumpsuit with style, elegance and confidence.