Bring your chic sense style to the street with sophisticated lace dresses. Lace compliment a touch of feminism charm to every dress, whether its prom lace dress, mermaid lace dress, evening lace dress or white lace dress. If there is anyone who has made lace dress sexy is Jennifer Lopez. She had worn the channel brand dress with plunging neckline in Paris fashion show.
If you are planning to wear lace dress in the office, keep two things in your mind: don't reveal too much skin and don't wear from head to toe. You can opt for the tops with elbow length lace sleeves and neck also covered with it. For the ultimate feminine outfit, choose a top that emphasise your waist with frills and pair it with tight jagging. Oh, so perfect look! It is the great way to flaunt your sassy curves and feminine silhouettes.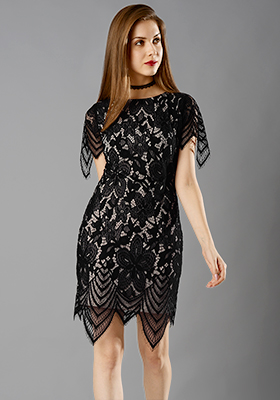 Lace dresses perfect for the office party: it's time to take the tradition back and opt for the one shoulder lace dress. It's ok to reveal your arms and neck skin. Glam this look up with black pumps, high ponytail to accentuate your neckline and red put. You are ready to become the diva of the office party. You will turn from Miss Elegance to Miss Sensuality.
Bow blouse for a vintage office look – bow look nice and add fun to your ensemble. So, don't rule them out when you are in cheerful mood. Romantic vintage lace blouse will help you to make the lasting impression at any soiree. A body hugging dresses always pack on the drama. Try an experiment with your lace dress and amp up the look with opulence clutch. And, if you feel like adding more vibes in your appearance, stick a vintage brooch in the middle of bow. You are perfectly ready for the office party.
Add some flirty touch to your laced top with modern styling by pairing up with black straight leg pants.  If you are looking for a way to refresh your look, trade your classic lace top with pussy bow blouses. You may replace your bow with oversized ribbon to add the touch of modish and pair it with the sequins pants to glam up the party. Else, opt for the same hue blazer and pants with modish prints that refresh your retro look.
Simply modernize your look with accessories like a pair of bright color sandals, statement necklace, opulence clutch, red pouts, minimal makeup and you are ready to reinventing fashion forward. Add a belt to a dress to embellish your style. You can either opt for sparkling belt or fierce animal printed belt to add the touch of glamor to your look. If you have tried any new style or know any styling tips, don't forget to share with us!