There are martial arts schools all around the world. Many of them are legit, and you can learn a lot over there on how to defend yourself and your close ones. And this is a critical life skill that should not be underestimated, as even if we do want to believe that we live in a safe world – the world can really be a dangerous place. So, if you want to train one of the best and most widely recognized martial art in existence, you'd do well to travel to Thailand. Here you can train the martial art called Muay Thai.
We'll preface the meat of the article by mentioning that Thailand is a beautiful country in and of itself, and it offers tourists an experience that they'll never forget afterwards, no matter where they have been. Whether it's nature that you're interested in, or busy city life, or exquisite cuisine, or the unique culture of an ancient country – Thailand has it all.
Now, why would you go to Thailand in order to train Muay Thai? Isn't Muay Thai really a worldwide known martial art? This means that there's a Muay Thai training camp in every place that you can imagine. While this may be the case, we're neglecting a single, critical point here… Muay Thai originates in the country of Thailand (hence the name Muay THAI). This means that it's the native martial art of the country, and the Thai people being the warriors that they are, are training Muay Thai on a daily basis. They are the true masters of this art, and you'll learn best if you let them teach you.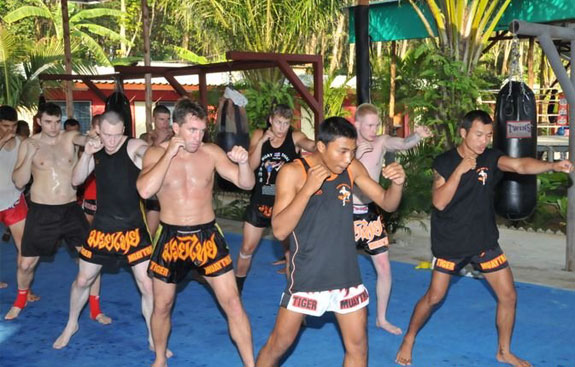 The best training camps in Thailand have world class instructors that will dedicate themselves to you while you train. They also have clean, fully equipped gyms where you can train with your buddies, or where you'll meet new people with the same passion as you. The best training camps are also reasonably priced, so you won't feel like you need to spend all of your money in order to train Muay Thai (even though investing even your entire life savings into training Muay Thai may pay off). The people training in these camps are disciplined and dedicated, and every one of them wants to improve their skill. Of course, chances are that you'll find someone that isn't 100% into training, but still visit classes – but this is a rarity.
But we neglected to mention the best thing about Muay Thai… it's really beneficial for your health! If you think that you only needed to do conventional exercise such as calisthenics or weight lifting in order to improve your body composition and overall health, then you're wrong. Muay Thai exercises your body really well in addition to teaching you lifesaving skills. This is quite a bargain, you'll agree.
So, if you hesitated up until now to go to Thailand, this article from SuWit Muay Thai center will hopefully have convinced you otherwise. Try it out for yourself and see how you like the martial art Muay Thai, and the beautiful country of Thailand.