The time after the attacks on the World Trade Centre and Pentagon in America were tragic and tense, not just in America but around the world. No one knew what the consequences would be, and the tragedy put to the test new diplomatic links that had only been forged since the fall of the Berlin Wall and the end of the Cold War.
As well as the official response, which saw allies working together to try to identify the origin of the attack and neutralise it, in the months and years after, there were grand gestures of international sympathy and solidarity which reassured the citizens of America, and of the world, that the international community stood together, united.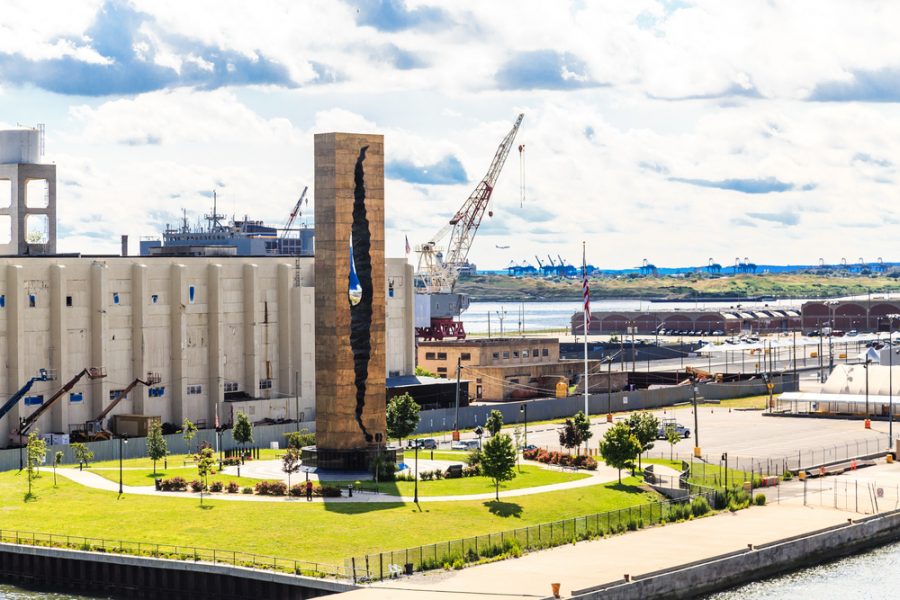 One of the biggest and most dramatic of these gestures was the design, construction and donation of a titanic work of art by the Russian artist Zurab Tsereteli. Formally titled To The Struggle Against World Terrorism, and known popularly as The Teardrop Memorial, or simply the Teardrop.
Presented originally to Jersey City, and ultimately homed Bayonne, this monument stands by the waters of the Hudson, with a view into New York City and the iconic skyline that used to include the twin towers of the World trade Centre.
The work itself consists of a gigantic silver teardrop, suspended in a tower that stands 30 metres high. Around the base, the names of the victims of the attack are engraved. It's aligned with the position of the 'ground zero' site in New York, allowing you to look directly from the monument towards the site of the tragedy, and more recently a large piece of still salvaged from the wreck of the towers was installed near the Teardrop, expanding the site and giving visitors more to reflect on.
It wasn't always a popular monument: there was some opposition to its installation, and not all the reviews were favourable. It's since become a beloved local landmark, that helps residents and visitors to the area feel closer to their friends in New York, and on the other side of the world! When plans were proposed to remove it to make way for industrial expansion there was an enthusiastically signed petition from locals to keep it in place, led by Robert 'Captain Bob' Terzi – a taxi driver.
It's now a firm fixture in the local landscape, and the Teardrop is regularly visited by people engaged in remembrance for the tragedy.