The wrapping papers and gift bags are amazing inventions if you think about how beautiful they look and what beautiful purpose they serve. Many others do share this point of view, however there are always a certain few critics who'll judge the very existence of these products, and will even be able to justify their point of view while nullifying everyone else's. As much as one would like to call such people anti-fun, their point holds a certain amount of value.
The very act of gifting may seem frivolous to a few, and the act of wrapping the gift itself would seem ridiculous to the same. Many people, including the socialists believe that it is an act essentially associated with the bourgeois class, which is absolutely untrue as history tells us. While wrapping gifts is an art that seems to have existed forever at this point, it did come into existence at a certain point in the past, and has continued since then. Let's take a look at history for a change, to find out how the current culture has evolved.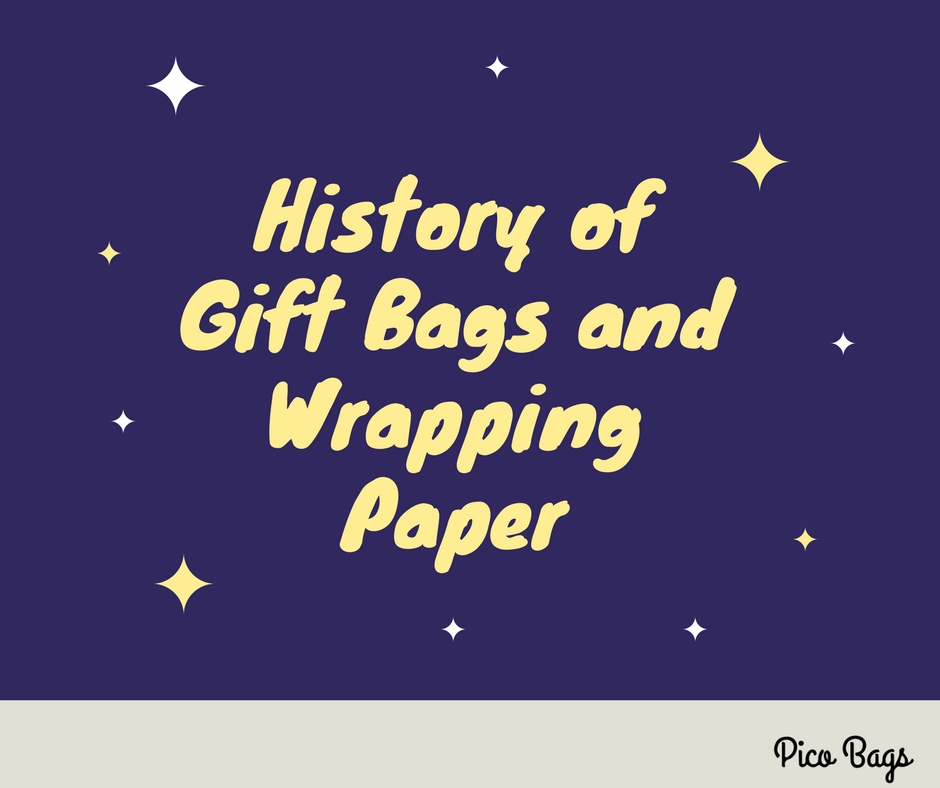 The History…
Back in 1509, wallpapers, something very commonly used in England, were used to wrap gifts. In the Edo period, cloth was also used as a means of wrapping gifts in Japan and China. Many materials were used between that period and early-20th century, like tissue papers, until the commercial product was finally invented. In 1917, gift-wrap was invented by Hallmark, because the tissue papers were running out due to their increased usage as wrapping material. These wrapping papers were sold by the sheet and had immediately begun selling out. In the mid-20th century (1930s & 1940s), a new trend appeared in the wrapping paper industry – the emergence of style.
The wrapping papers now had winter scenery or Christmas scenery, to mark occasions and to add beauty. In 1970s, large gift bags made of plastic were introduced to wrap large gifts that could not be wrapped in the regular sized wrapping paper. Finally, in 1987, a new development took place with the creation of paper gift bags (decorative) with handles by Hallmark, which have now become the most popular ones used to give gifts nowadays. Paper gift bags wholesale markets have also appeared in certain parts of the world, especially in Western countries. Although it may seem like a very long history, you may notice that the first commercial invention only took place in the early 20th century and not before, and therefore the commercial usage of the product is quite recent, being only a century old.
The Statistics and Facts…
Perhaps a certain number of facts would also help out in raising awareness and increasing relativity in the current scenario.
• Nearly 1 in every 4 people finds pleasure in wrapping gifts, and claims that it puts them more in the holiday spirit than anything else.
• Nearly 50% of the Americans admit that they often rewrap the gift in case it does not look good the first time around. Keep in mind, this statistic is purely based on American sample, and the world might have a differing opinion.
• 27% of the people wrap their gifts two or more days before they are supposed to give them out.
• The total expenditure on gift wraps, wrapping papers, gift bags, etc. in the world comes out to a cumulative total of $2.9 billion a year.
• Statistics show that from 2005 onwards (statistics for the years before aren't as clear) most of the items wrapped as gifts are gadgets (Xbox 360 in 2005, PlayStation 3 in 2006, iPod Touch in 2007, and so on).
• In Britain, people throw away nearly 230,000 miles of wrapping paper in holidays alone, which by the way is capable of stretching around the Earth nearly nine times.
While the history tells a beautiful story of the evolution of one-sided exchange, the statistics paint an absolutely contrasting picture of the same. And while the wasteful usage of gift bags, wrapping paper, etc. is one thing, but the beauty and true benefits of the same are not less either. Perhaps the only solution for the same would be to be wise with the consumption, so as to control the wastage, rather than to abandon the use on the whole. Nothing says holiday like wrapping paper does.