Swimsuit
This might sound totally obvious, but not just any swimsuit will do the trick. Choose a snugly fitting suit that isn't too tight or too loose. That way you can move through the water without the material shifting and needing to be readjusted all the time. Experts suggest choosing a practice suit, which are designed for lots of time in the water moving around.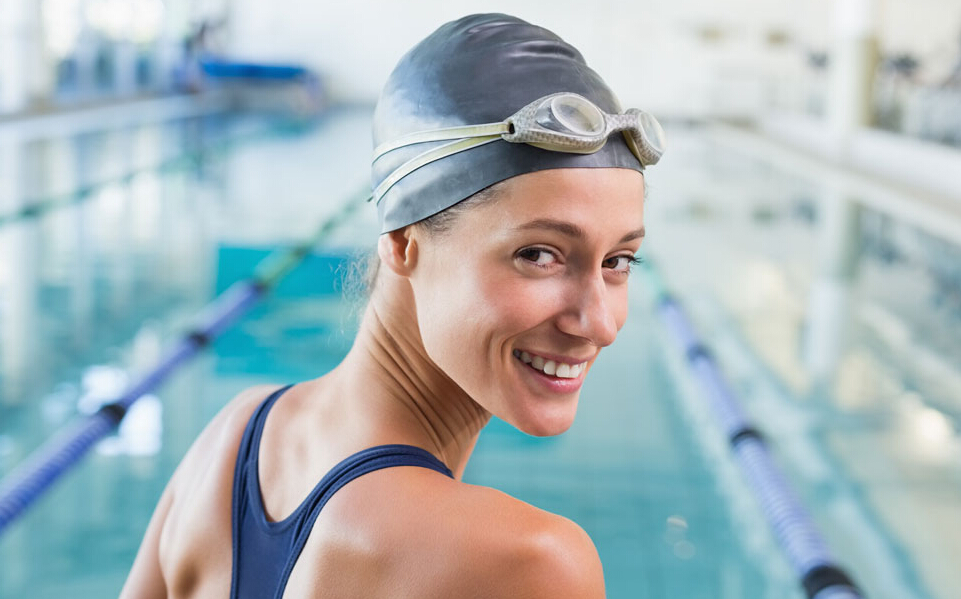 Goggles
You don't absolutely have to wear goggles when you swim, but they are nice to have for keeping the chlorinated water out of your eyes. Too much pool water in your eyes can cause irritation and redness. A snugly fitting pair of swimming goggles keeps the water out so that you can see where you are going as you swim.
Swimming Cap
Like goggles, many people swim without a cap on. However, if you plan to spend a lot of time in the water, you may like the comfort that cap provides. Not only will it keep your hair out of your face, but it's also great for keeping your goggles where they belong too.
Kickboard, Fins or Paddles
These devices are designed to give you leverage and help you hone your techniques in the water. Once you've gained skill and confidence in the water, they can also increase the health benefits of your workout by making it bit harder to do. Kickboards allow you to rest your upper body on a buoyant tool and kick your legs behind you. Fins attach directly to your feet and increase the muscular contraction in your legs as you swim. Paddles are great for boosting the benefits to your arms. Any or all of these tools can really help you maximize the benefits of your swimming session.
Nose Clip
This handy device will keep the pool water from going up your nose. When that happens it can derail an otherwise effective workout, leaving you with poor results and plenty of discomfort. A nose clip is inexpensive, easy to use and may be the one piece of equipment you never want to be without.
A Waterproof Bag
When you are committed to fun or exercise in the pool, you'll need a good way to transport your materials to and from the water. A waterproof bag is a great choice because it will repel the water, keeping things like your smartphone or wallet dry while they're in the bag. Of course, wet suits and towels should be placed in another bag once you finish swimming if you keep those things in there too. However you organize it, a bag is a must have when you're a swimmer.
In addition to an absorbent towel, these items should help you get the most out of your time in the water, whether you're there for fun or for a great workout. Peoria swimming lessons can help you master swimming techniques and teach you everything you need to know about the needed equipment.