Are your aware that changes in some of the planets have a great impact in various spheres of your life? Do you know that shift in the planets in your birth chart can make your life heaven or sometimes hell as well? If your answer is no then there is a lot more which you can know about the reasons behind the events which take place in your life.
As per the astrology which is the ancient Indian science, the planets in the birth chart which is also known as the janampatri of a person can actually impact his/complete life. There are times when the dosha, basically the problems in any of the planets bring negativity and hopelessness in the life of a person. Rahu Ketu Dosha is one of such situation which can actually make a person no less than a hell.
Both the planets, Rahu and Ketu move in a retrograde motion. When we talk about rahu it basically represents losses, mental illness, theft, death of a closed one, legal issues and a number of other negative aspects. Not only this, Rahu is also considered as the reason behind the instance failure or success in the life of a person. When this planet is rightly placed, it brings courage and fame in the life of a person.
When we talk about Ketu, it is basically related to the diseases which are related to the lungs, brain, intestine, ear etc. This planet also represents wounds, bad company, sufferings. On the other side, Ketu is also for sudden gains, moksha, and other spiritual pursuits.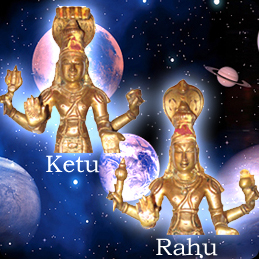 Follow the below remedy for Rahu Grah Shanti:
As Rahu can actually make a puppet of a person with its influence, it is very necessary to get hold of this planet. If this planet is not rightly aligned, then a person should chant the Rahu beej mantra and this mantra needs to be chanted for 18000 times. The mantra is Om Bhram Bhreem Bhroum Sah Rahave Namaha. A person who has the Rahu dosha should also keep fast on Saturdays so that the bad impacts of this plane can be reduced. It is also considered good to give rice to Brahmins and along with that good deeds such as feeding sweet chappatis to crows also prove very helpful.
Follow the below remedy for Ketu Grah Shanti:
Ketu can also make a person his servant, however if this planet is under control then it can also help in taking a person to the higher spiritual planes. To make sure that this planet has no bad effects on you, it is considered good to chant the beej mantra for Ketu for 17,000 times and it is also good to perform hawan. The mantra which needs to be chanted is Om Shram Shreem Shroum Sah Ketave Namah. To lessen the effects of this planet, a person should also donate iron weapons and blankets to the poor.
Hope these remedies will prove helpful to you. You can also get in touch with a good astrologer to know more about it.