What could be better than watching sunbeams dance across your living room floor, spreading sunlight throughout your home? Add in the ambiance factor and you'll quickly discover all how great a skylight is, tying your whole house together.
Skylights can give your home the boost you've been looking for. Skylights have been around since ancient times when both the Greeks and the Romans built buildings to allow sunlight to fall naturally from the top down. They learned to control light and focus it on where they wanted and needed it most.
And while our modern building dynamics have found that windows are much easier to install and maintain on the sides of a home, nothing prevents you from bringing in light from the roof.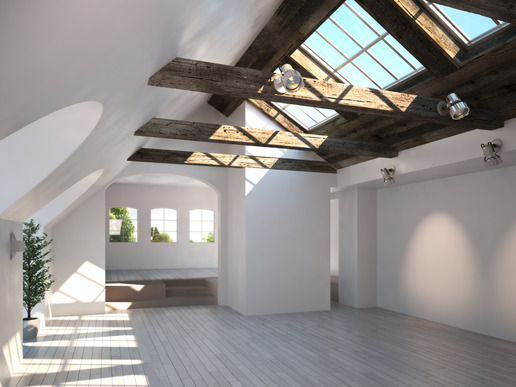 Cut a hole, add a skylight, and voila, instant benefits. Yes, there is a little more to it than that, but skylights can be just the thing you need to liven up your home. Need more convincing?
Go Green!
Green remodeling. Eco-friendly improvements. Energy efficiency. Those words are no longer just on the fringe of the remodeling world; they are the driving force behind many remodels. And while many of those words were once associated with "ugly design," the simple fact is they aren't any longer.
You don't have to be a fringe believer to get on the "green" bandwagon. Being green is now considered a reasonable thing to be. Plus, by adding skylights to your home, you'll find yourself with just a little bit more pocket money as you won't need to constantly switch on lights.
There are two reasons skylights are popular in the green community. First, the right skylight has the potential to increase energy efficiency and reduce energy costs. Second, they maximize natural lighting. But not any skylight will do. To have a skylight be as energy efficient as possible, focus in on these characteristics.
Orientation – skylights with a southern exposure will provide solar heating in the winter months while the west exposure can help cut back on cooling costs during the summer months. Careful planning will allow you to maximize your heating and cooling needs every month of the year.
Multiple panes – just like windows, skylights can be upgraded to double pane, which will reduce heat loss by as much as 15 percent.
Low e-coatings – low e-coatings reduce heat loss in the winter and reduce heat from entering your home in the summer.
Low conductivity frames – choose wood, vinyl or fiberglass frame over aluminum and steel to add insulation and efficiency.
You'll have more natural light than you know what to do with
The more natural light that falls into your home, the less likely you'll be to use artificial lighting, which adds to the expense of running your home. And by using skylights in the places where you spend the most of your time, you'll allow as much as two to three times the amount of light in during peak daylight hours.
This can be especially important if you're working from home, spending the vast majority of your day in one location, like a family room or office. It's also a benefit for those over sixty, which often have more trouble seeing than they did at earlier ages. Natural light reduces glare and opens up living space to make it more open, safer.
It can also change the entire ambiance of a room. You know that incandescent glow that filters unnatural yellow all across your room? With a sun tunnel skylight, you can bring in an abundance of bright, white, naturally healthy light into any room, even where more traditional skylight windows are not an option. This is an excellent way to liven up even the darkest, tiniest places in your home.
Your home design will stand out in the neighborhood
Ever taken a drive down a street in your neighborhood and gotten lost in the sea of sameness? The neighbor's house is just like the house across the street, all of which resembles yours. While it's sometimes nice to blend in with sameness, maybe it's time to stand out a bit and give your home style.
Skylight windows can change the elevation of your home, giving it its own look and design. It can also add to the resale value if you decide to sell in the future. When compared to all others with a similar look and comparable features, the one with the skylights will stand above the crowd.
You'll bring the outdoors in
The smell of rain. The cool breezes. The rays of sunshine. Each of these items remains on the outside of the home … unless you invite them in.
But thanks to windows, simply by throwing them open wide, you can let a little of the outside filter in to enjoy on the inside as well. With a skylight in place, it can bring in even more.
Depending on the skylight you choose, you may be able to open it up with a ventilation system to produce a passive air conditioning structure. Warm air can be drawn up through the venting skylight while pulling in air from chimneys. The circular motion may be just the thing you need to keep your house cool.
And let's not forget about the sunshine factor. It may be a small deciding factor for installing a skylight in your home, but nonetheless, it's a perk that cannot be overlooked. After all, natural is easier on the eyes.