When your kitchen cabinets start looking worn and tired, sometimes the best solution is to give them a makeover by resurfacing them. Sometimes, it is simply not practical to rebuild an entire set of kitchen cabinets and this is where resurfacing comes in. A few well-planned changes can make a world of a difference to how your kitchen looks.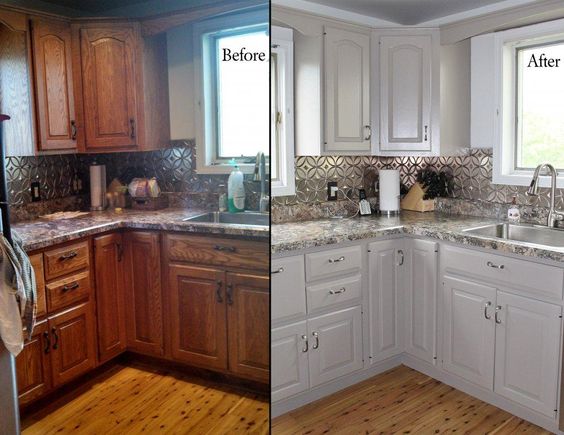 Should You Reface Cabinets?
The first point to keep in mind when you are considering resurfacing your kitchen cabinets is if the cabinets that you currently have in your kitchen will be able to remain in good condition for another 10 years after they are refaced. If your current cabinets have a lot of structural damage such as water damage for example, then replacement might be your only option. Water damage is a major cause of mold and will usually lead to your kitchen cabinets falling apart.
Another factor to consider is cost. You may need to research cost of refacing before deciding if it fits your budget or not. If the installation of brand new cabinets is out of your budget, then refacing may be the only viable solution.
If, on the other hand, your current cabinets have frames that are sturdy then refacing is a great option. If you want a very simple way to change their look, then simply changing their color can make a big difference on the overall look of the kitchen. Another option is to replace the doors of the cabinets with a different wood or style. Replacing the handles will also give a different look to your cabinets.
How To Reface Wooden Cabinets
Giving your cabinets a makeover is often overlooked and is an option that many people simply don't realize that they could be making use of. Here are a few tips to keep in mind:
When giving your wooden cabinets a new look, always empty them first. Next, remove the cabinet doors and any shelves inside the cabinets using a small screwdriver and if there is any paint on the screws, clean it with the tip of a knife.
Always use the appropriate tools and equipment when refacing kitchen cabinets. Use proper nails to affix cabinets in place once your work is done. To avoid any badly installed cabinets, always use the recommended size nails, usually made from a nail making machine, and when using an electric drill, exercise extreme caution in the home, making sure to keep any tools away from children.
An important point to remember when reinstalling cabinet door fronts is to label each cabinet door front and opening so as to avoid any confusion later. Often, the different pieces of wood look very similar to each other and can vary by as little as ¼ inch. Remember to remove the labels before spraying the wood with primer and then paint.
Completely remove any grime from the cabinets, sand the wood to remove any rough areas of wood. Using wood putty, fill in any dents or chips.
When painting the cabinets, work in one direction to give a smooth finish. It's worth noting that oil-based paints don't leave brush strokes while latex paints do.
Benefits of Refacing Cabinets
When deciding whether to reface your kitchen cabinets, some of the major points to consider before you begin any work include:
Time: How much time do you have to invest in the project? If you have only a few days, then refacing is the most viable option and if you have several weeks to spare then you can opt for either refacing or a complete remodel of the kitchen.
Effort: Keep in mind that transforming an entire kitchen is a lot more labor intensive as it requires preparing the entire space for new cabinets which includes electrical outlets, plumbing and possibly even moving walls.
Present Cabinets: if your current cabinets are quite new then refacing is a realistic possibility but if your cabinets are full of rotten floors and damaged doors then refacing them will most likely not be possible.
Budget: Refacing costs a lot less than replacing them completely so if you're low on funds, then refacing is the best option. Sometimes a new color can be all the change your kitchen needs to look brand new. If, for example, you are thinking of selling your home, refacing your kitchen cabinets is a great way to update your kitchen for potential buyers.
Concerns with refacing older cabinets
Lead Paint: When it comes to refacing cabinets that were made prior to 1978, dealing with lead-based paint can be an issue. Most of the furniture made before the 1980s was created using lead-based paint, which is extremely harmful if ingested. Touching is not a problem but inhaling paint-dust poses a threat to your health. This type of paint is usually found in furniture made between early-to mid-20th century.
Appliances: If, after you are done refacing your cabinets, you will also be replacing the existing appliances, it's important to know the dimensions of the new appliances as they will not have the same dimensions as older ones which must be taken into account when installing cabinets.
Keep these points in mind if you are planning on refacing your kitchen cabinets. With some careful planning and a well thought-out plan, every kitchen can look brand new by simply improving your current cabinets and without spending a lot of money on installing new cabinets.