For the second successive year, the NASCAR Camping World Truck Series Chevrolet Silverado 250 race at Canadian Tire Motorsport Park sent a huge number of fans home joyful in light of the fact that — as was the situation last Labor Day weekend — the completion had everyone talking.
A year prior, Chase Elliott won by colliding with pioneer Ty Dillon at the last corner of the last lap, making him lose control. This time around, champ Ryan Blaney didn't crash his rival. He did battle right back, on the other hand, in the wake of being passed by German Quiroga going into that last corner and afterward beat him in a straight on race to the begin/completion line by 0.049 seconds.
Erik Jones and Gray Gaulding completed third and fourth. Andrew Ranger of Roxton Pond, Que., was top Canadian in fifth.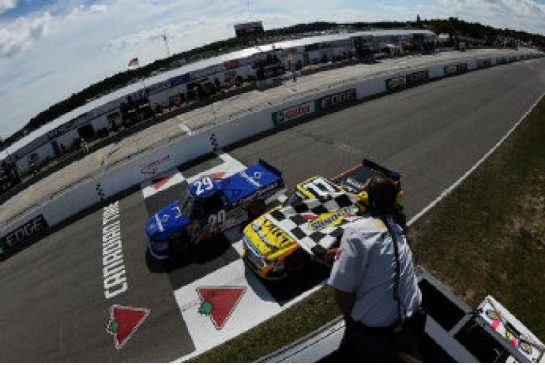 Different Canadians in the 29-auto field, which incorporated one Mexican — Quiroga — and 24 Americans, were Cameron Hayley of Calgary (eleventh), Alex Tagliani of Montreal (sixteenth in the wake of beginning on the post, and Ray Courtemanche Jr., likewise of Montreal (twentieth, a lap down).
Emulating a late-race restart — the second of two alert periods was brought about by Tagliani, who lost control of his truck and stalled in the wake of turning — Blaney and Quiroga pulled far from whatever remains of the field. The assessed 50,000 in participation expected a rehash of the "tradin' paint" scene of a year back. Yet it was not to be.
Albeit both drivers focused on thereafter that they had needed to run a clean race, Quiroga let it slip that NASCAR had reached both drivers on Saturday and cautioned them against harsh dashing.
It worked out that there was a bit of a history between them.
"Destiny would have us hustling against one another," Blaney, child of NASCAR Sprint Cup driver Dave Blaney, told a stuffed post-race news meeting. "Yet (non-contact) is the way hustling ought to be. Fans have seen incredible dashing two years consecutively up here and assuredly we can continue doing that."
Quiroga said he attempted to compel Blaney into committing an error amid the last few laps of to a great degree close dashing between the two.
"At the same time I couldn't shake him," he said. "I passed him at the end of the long straight (turn eight) and after that he got a better than average run falling off turn nine. He beat us to the line significantly a truck length.
"We've had a few things happening in the middle of Blaney and me in the last few races, so we needn't bother with that to happen any more. We talked before the race (after the call from NASCAR). I let him know that possibly one day we could simply fight for the win and it worked out that way today. Shockingly for me, we came next."
The 64-lap race around the 2.49-mile circuit took one hour and 42 minutes to finish, for a normal rate of 92.514 miles a hour. There were only two alert periods for six laps and eight lead changes among seven drivers.
NASCAR has officially declared the trucks will return next Labor Day weekend. Despite the fact that it is normal that the Honda Indy Toronto will be moved to "Old Mosport" in 2015, the Indycar endorsing association has yet to affirm it or set a date for one year from now.
Prior Sunday, J.r. Fitzpatrick of Ayr, Ont., won the NASCAR Canadian Tire Series stock auto race, with Jeff Lapcevich of Grimsby second and Marc-Antoine Camirand of Saint-Leonard-d'aston, Que., third. Fitzpatrick has won five NASCAR Canada races at the track, precisely 50% of the aggregate number he's recorded (10) in Canadian Tire Series competition.