For many hotels, catering is a key part of their business, so it's essential that the kitchen is run properly. When it comes to running a successful kitchen, a commitment to staffing, efficiency and hygiene can make all the difference.
With many hotels offering breakfast, evening meals and other catering options, food has become a core part of the guest experience. Some hotels have even gone so far as to develop their restaurant as a destination in itself.
When it comes to hotel dining, the quality of the food is key, and a subpar experience can leave a bad taste in a guest's mouth and could lead to negative reviews. To ensure that your guests leave satisfied, it's essential that good quality food is served efficiently and safely.
Staffing
Getting your staffing right can have a big impact on your kitchen. At the very minimum you will need a Head Chef and a Dishwasher. Hiring an experienced, well-qualified chef who is able to run a kitchen is essential, and helps to take some of the pressure off you. Equally, there is no point in serving up delicious food if there are no clean plates to serve it on – so don't underestimate the importance of having someone who can fill this position. Additional positions such as Chefs de Partie or Line Cooks will depend on the number of covers you expect to serve and the style of your food.
To find the right staff, try using recruitment agencies which specialise in the hotel or restaurant industry. Turnover in the hospitality sector is notoriously high, so once you have a good team in place, make sure you hang on to them.
Efficient processes
Having efficient processes in place can be the difference between a successful and a subpar kitchen.
One of the most important things you need to do is to work with the chef to plan and cost out your menu. This is vital to determining your break-even and profitability point. It will also help you to effectively plan what you need in terms of ingredients and staffing levels.
Similarly, implementing an effective stock control and ordering system enables you to keep a close eye on what you're buying and when, helping to eliminate food waste and additional costs.
Substandard equipment that doesn't operate properly can be a big drain on efficiency, as well as affecting the quality of food and staff satisfaction. For the best results, invest in good quality equipment and ensure it's properly maintained.
Health & safety
When it comes to running a hotel kitchen, health and safety is one of the most important considerations. Neglecting to pay proper attention to health and safety could see you facing a hefty fine, or even see your kitchen being closed down.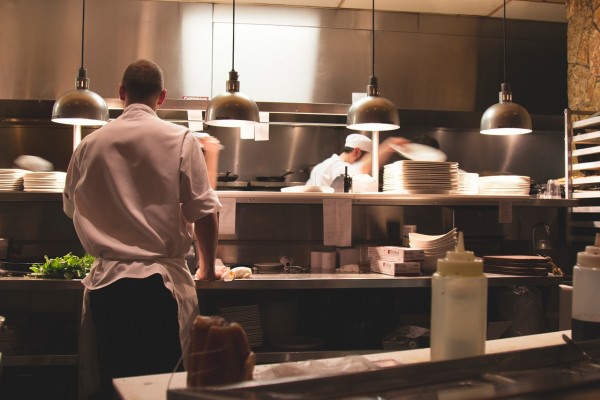 So, what do you need to know?
As the manager of a food business, you are legally obligated to ensure that any staff members who handle food are supervised, instructed and appropriately trained in food hygiene. Making sure all of your food handlers hold a Level 2 Food Hygiene Certificate is an accepted and straightforward way of complying with the law.
As well as ensuring that your staff are appropriately trained, it is essential that your kitchen complies with food safety regulations and practices good food hygiene. As well as breaking the law, failure to do so could also cause illness amongst your customers and ultimately harm your business' reputation.
When it comes to food hygiene and safety, there are 4 key things to remember:
Cross-contamination is one of the biggest causes of food poisoningand it happens when bacteria is spread between surfaces, equipment or food. It is essential that your staff are aware of the risks of contamination and how to avoid it.
Measures such as washing your hands thoroughly before preparing food, storing raw and cooked food separately, and cleaning and disinfecting work surfaces and equipment can all cut the risk. Safety signs which highlight certain preparation zones (e.g. 'meat only'), or which remind staff to keep raw and cooked food separate, can also be really helpful in keeping the issue of cross-contamination at the forefront of people's minds.
Regular and effective cleaning is key to eliminating the spread of harmful bacteria. It's important that staff follow good hygiene practices, and work in a clean and efficient manner, clearing up as they go. In addition, all food handlers should have a high level of personal hygiene.
Chilling food in the correct manner can help to prevent bacteria from growing. Any food that needs to be kept chilled should be put in the fridge immediately and not left standing around at room temperature. To store cooked food, cool it down as quickly as possible, before putting in the fridge. In England, Wales and Northern Ireland it is a legal requirement that cold food is kept at 8°C or below.
Cooking food thoroughly can kill any harmful bacteria. To avoid the risk of food poisoning, you need to ensure that any food is cooked properly, particularly when it comes to products such as poultry, rolled joints of meat, and foods made from mince such as burgers. Similarly, when food is reheated, it should be piping hot all the way through.
Having a good kitchen can make all the difference to your hotel business. By paying attention to key areas such as staffing, processes and hygiene, you can help ensure that your kitchen is reliable, efficient and, most importantly, produces great food.
Jill Henderson is a representative for Health and Safety Signs who specialise in supplying health and safety signs for businesses.