When it comes to the choice of beds, the fact of the matter is that you will always be faced with a number of options worth your consideration. Some of the most popular pieces of furniture available today include platform beds and storage beds and these two have their own pros and cons which you should understand before settling for either.
Mostly, people are having to compare between platform beds against storage beds and this has to do with the fact that these two types are designed to help you maximize on the available space especially when it comes to storage. However, if you get the best platform bed, there are many advantages you get which cannot be replaced by any other type including storage beds.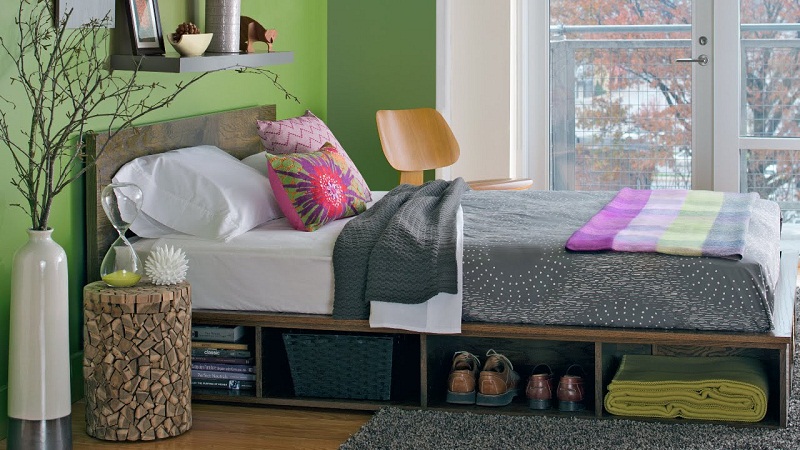 A look at the two types of beds will show that both have storage space underneath with the storage bed always having built in drawers where you can store clothes and other items. However, platform beds do not always have built in drawers and that makes them lighter and easy to move around whenever necessary.
One advantage that platform beds have over storage beds, is that the former is always lighter despite providing you with ample space. Platform beds normally have a platform which supports the mattress and this means there is no need for box spring as is the case with traditional beds.
Both these types of beds have an aesthetic appeal and will transform any bedroom into a masterpiece. You can choose from different styles of frames and have one that bed matches your interior décor.
These two types of beds are available in various styles, designs and sizes and you can easily choose the one that best suits your décor and storage needs. You can choose a kind size bed or a smaller unit depending with the available space in your bedroom. This makes them unique when you want to turn your bedroom into a visually appealing living space. Whether your décor is modern or traditional, you will always find the best platform bed or even storage bed to match with it.
With the two types of beds however, you will need to get the right mattress and beddings to easily match your décor. However, you will find that these two types of beds to be a little bit pricey especially for storage beds but this is informed by the fact that the design consumes more materials and hardware. Storage beds normally have drawer locks and handles and these could see the cost go up a little bit.
When all is said and done, the best platform bed should make of quality timber to help withstand pressure and weight for many years. Normally, the quality of materials used will determine the cost and this is something you should always consider when making your purchase. Always go for quality even if it means paying an extra dollar. The modern platform beds are usually very comfortable unlike the common misconception in many people.