The Good: There are many things that make this Philips espresso machine the best in class. The water tank that is in the machine is large enough to easily make around 4 cups which is sufficient for a mid-sized family. Another great thing about the machine is that the attachment to make froth milk which comes with it. It works amazingly well and can be used very easily.
The Bad: Though there are many good things about this machine, there are a few downsides you should know. It lacks a water filter and a descaling solution which can be important for some people who would be using this coffee machine on a regular basis. The machine can get a little noisy sometimes while using it. Also, the design is something which will not impress many.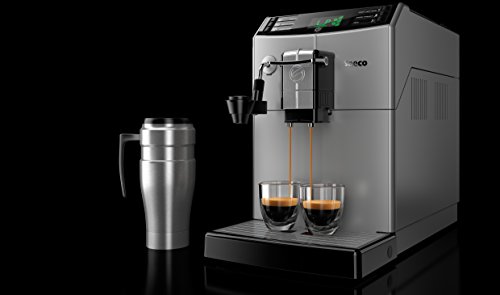 The Bottom Line: What matters most in a coffee machine is the quality of the coffee it produces, and regarding the quality you can always count on it. It has a good capacity to fulfil your needs and comes with a great froth attachment. Although there are a few things like design being not up to the mark and the machine making some noise, you can ignore the downfalls because the machine is packed with features that you'll love.
Philips Saeco HD8772/47 Espresso Machine Review
This coffee maker works just the way you want it to. Using it stays hassle free and unlike other machines, the options provided to make a cup of fine espresso is extremely simple. You also get an easy selection of whether you want to make coffee or espresso. Even the grinders of the machine are fully adjustable so that you can set it as per your needs. If you want a finer grind, you can keep the level high or just the opposite if you want it to be a little coarse. They are all made up of ceramic which is beneficial for the user.
Though the Philips saeco espresso machine is a little expensive but if you can notch up your budgets, you will definitely love the unique features it provides over other machines. However, if price is an important factor to you then this can be a little of a disappointment. Also, the people who care about the aesthetics can be a little unimpressed because it is not actually made to be visually appealing.
It will definitely impress all those who love the taste of good coffee or espresso and would surely be a good decision to buy it.
Features and Functionality if the Philips Saeco HD8772/47 Espresso Machine
There are a lot of great features in this coffee machine and you would love to know them before making a decision. Let's see some of the best features of the Philips Saeco HD8772/47 machine.
A lot of coffee machines can screw up with the taste making it taste like it is burnt. Be assured that the taste will not be compromised with this machine because all the grinders are made up of 100% ceramic.
You don't have to wait for your coffee to be made, it happens seamlessly and very quickly. The machine is powered by quick heat boiler technology which helps it do that. So you can now prepare coffee after coffee without having to wait in between.
The froth attachment is something that everyone is in love with. The froth tastes delicious and it is because the automatic milk frother is backed by a patent and is completely unique in its own. So when you need to make a lips smacking cappuccino, just use this machine to do so.
You can save your favorite coffee settings in the coffee machine itself so that you don't have to set it again and again. This shall be helpful for frequent users of the machine. You can get the coffee as per your personal preferences with this feature.
With these amazing features in the machine, you surely would want it as your personal coffee and espresso machine. Though a little higher on the price side, you can count on the good things and features to get a great cup of coffee.