Ohio University has seven varsity games groups or squads outfitting this fall season that aren't football, with recreations and matches quickly approaching. The Athens NEWS sat down with mentors from ladies' field hockey, soccer and volleyball to get their tackles their groups' promising new seasons, in addition to incorporated a short review of men's and ladies' golf and crosscountry.
Volleyball
Volleyball, a ladies' just game at OU, is falling off one of its best seasons in system history. It emphasized a general season and MAC competition title, and also all-round distinctions for some players on the group. Significantly in the wake of losing head mentor Ryan Theis to Marquette, desires are as high as ever for the group.
New mentor Deane Webb, who originates from a fruitful project at Belmont University in Nashville, takes initiative of a program that as of now has all the devices to be effective. Webb's squad will utilize a high-hazard, high-compensate style of volleyball.
"We will serve forcefully," Webb guaranteed. "We will astutely go out on a limb, I would say. From the administration line, and afterward from the way we assault, we will be somewhat more forceful in the way we do things. What's more with that, we need to have a higher resilience for danger."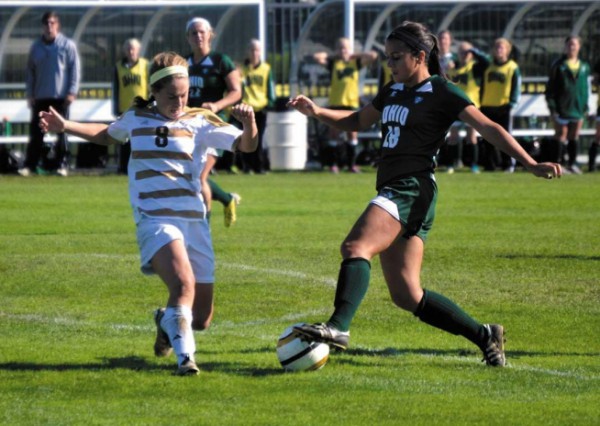 Understudy competitors, including previous MAC Player of the Year Kelly Lamberti, an outside hitter for OU; a year ago's MAC Player of the Year, setter Abby Gilleland; and Chelsea Bilger, a first group all-MAC entertainer in 2012 (she missed a large portion of last season because of damage), come back to a group that went 27-6 in 2013. Lamberti and Gilleland both got Division I All-America fair specify a year ago. At the same time this isn't to say that there won't be parts to fill.
"I think we have various players who have buckled down this mid year and are readied to venture in and enter parts that perhaps they didn't have a year prior," Webb said. "I accept we have a few children that will be diverse level competitors this fall than what they were a year ago, and I feel that will demonstrate when we get out there on the courts."
Anticipating this group are various outings to big-time programs and matches with extremely skilled squads. The initial three matches of the 2014 season incorporate two positioned rivals at the Rainbow Wahine Invitational in Honolulu, as Ohio tackles Hawaii (#17) and Arizona State (#25), and after that later plays an alternate enormous program in San Diego State.
"It's simply an unfathomable open door for our children to play in that environment, and clearly we're anticipating being there," Webb said.
The Bobcats likewise will tackle enormous projects in the Baymont Suites & Inn Invitational in Athens, the Millenium Hotel Invitational in Cincinnati, and the Wildcat Challenge in Evanston, Illinois, all before getting into the continually difficult MAC slate of matches.
Ladies' Soccer
Falling off a year in which the group just lost by more than an objective once, Ohio ladies' soccer has been tabbed by Mid-American Conference mentors to complete third in the MAC East. This, a year in the wake of going 7-8-5, which incorporated a 3-5-3 imprint in the gathering. The group lost goaltender Mattie Liston and midfielder Maggie Murnane from a year prior, yet a flood of youthful ability (eight rookies in the approaching class of 2018) has mentor Aaron Rodgers energized.
Notwithstanding the energy about capable newcomers, Rodgers and the group have an alternate motivation to be restless for the season. With two broadcast recreations heading up in the 2014 season, the opportunity for presentation is high for the group.
The Bobcats have a date with Coach Rodgers' previous group (where he served as an associate mentor) in the Kentucky Wildcats on Aug. 31. The amusement, which will be played in Lexington, will be offered on the new SEC Network. A later TV duel will match the Bobcats against archrival Miami Redhawks on Oct 12.
"It's astonishing. I think, for one, we're presumably the first MAC system to really get one amusement on TV, and now we get two in one season," Rodgers said. "It's energizing for the SEC Network to think enough of us to think it'll be a decent focused match versus Kentucky… We're truly energized."
Senior Nicole Amari, who enlisted two begins in the objective a year prior, play goalkeeper to start the season. Carly Manso will be an assaulting midfielder/forward who will be the focus of a lot of people long balls down the left wing. Key returnees sophomore forward Alexis Milesky, senior protector Tonya Frasik and group chief senior Gabby Hausfeld (safeguard) will be once again to reinforce an Ohio squad that is ready to make commotion in the MAC.
Who else plays at a few positions is still to be chosen.
Field Hockey
Ohio field hockey is expected for an alternate enormous season in 2014. The group falls off a 7-10 season (3-2 in the MAC), however is known as an issue that calendars intense adversaries. With three ACC (Atlantic Coastal Conference) groups on the calendar in Wake Forest, Syracuse and Louisville, and other extreme non-meeting groups to boot, head mentor Nate Macmillan realizes that this season will create numerous difficulties.
"We absolutely have an intense timetable, and I think its great to test," said Macmillan. "I don't think there's a solitary diversion that we can take a gander at and take softly."
The group will play without Luli Gomez-Tereul, the MAC Player of the Year from a year back. Ohio is not without Gomez-Treul totally, as she returns as an undergrad aide. The group does give back a solid center that ought to have the capacity to play solid protectively. Chief Lauryl Desch, bad habit skippers Brittany Walker (goalie), Caelyn Hartley and Adele Sammons return.
Macmillan noted that Desch, among others, "Truly can control the diversion… and assuredly benefit work with association, particularly in resistance."
Crosscountry and Golf
Ultimately, crosscountry and golf (which offer men and ladies' groups) come back to activity. The XC men's group set fourth at the MAC titles, as lesser Jacob Stephens comes back to lead out front. The ladies' group loses Juli Accurso, one of the more fulfilled runners in Ohio sports history. Accurso earned All-America respects at NCAA Nationals in 2013. The group completed fifth in the MAC.
The men and ladies' golf groups come into the season raising to get on the green with both fall (experiencing Oct. 21) and spring dates booked. Andrew Mlynarski and Peyton White come back to lead the group.
Mlynarkski posted the 21st best stroke normal (75.54) in the MAC last season, while White (a returning sophomore) posted the tenth best stroke normal in the meeting (74.29). Sophomore Hailey Hyrnewich will lead the ladies' group in the wake of gloating the best normal in strokes for every 18 gaps (78.26).