Have you ever thought about packing up your entire home and moving across the country? Aside from it being a complete hassle, it is often difficult to know how to fit everything inside a variety of different sized boxes and containers. Then to pack those boxes inside a moving truck or locked pod container, can pose issues of its own.
Sometimes, if you think of the process more as a geometry problem, then the shapes have a tendency to work themselves out. It is nice when things fit together snug and tight, preventing objects from moving around or getting broken. But, it is not always quite as easy as it looks. Often packing your belongings can take a little creative thought to properly maximize the use of your packing space.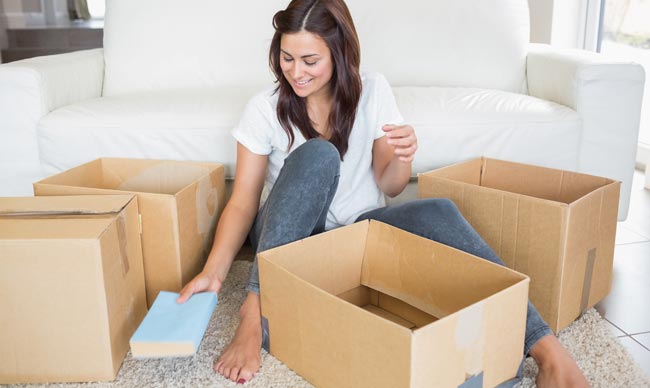 Packing Ideas

When objects are nice and uniformly shaped, it is often easier to securely pack them without wasting space. This is especially the case when you are packing small boxes of smaller items inside larger boxes. But, when you have a lot of odd shaped objects that you are trying to pack, it is sometimes hard to figure out how to best make use of the space in the boxes you are packing things in. In such cases, it can be very beneficial to try and pair items in such a way that when packed together they construct a square or rectangular space. By arranging and rearranging items in groups, this is usually possible to do without too much difficulty. Then when you go to actually pack these items in boxes, it becomes easier to more efficiently use your available packing space. If getting your items into a square or rectangular form when packing is not possible, then attempt to fill in gaps with clothing, paper, or other flexable materials to ensure that you are filling as much space as possible, not wasting space. The less space you waste in the initial packing stages, the smaller moving truck or container you will need to efficiently pack and move the contents of your home.

Packing the Moving Truck or Container

Once you have all your boxes packed tight and secure, then the next thing you have to worry about is packing the truck or container in which you will be transporting your belongings. To conserve space, it is perhaps best to begin with large boxes, packing the rear of the truck or container first, allowing the boxes to act as a cushion for furnature. A box is less likely to scratch furnature than the back or sides of the truck or container. Again, the idea is to pack shapes in such a way that they remain tight and snug, not having much room to move around. With the boxes in the back, use matrisses on the sides of your container, housing your furniture inside the padded regions of the matrisses. To further protect your furniture, cover the furniture with moving blankets to reduce the risk of damage to the wood.

If you need to secure the furniture near the opening of the truck or container, you can often run bunji chords across the opening area to help hold everything in securely before closing the storage area. If everything is secured in place, then you are ready to head out.