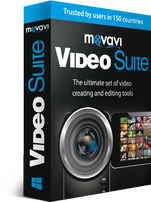 If you're looking for a one-size-fits-all video creator that can help you to produce professional-quality videos with ease – you've come to the right place. That is exactly what Movavi Video Suite attempts to do, not just by letting you edit videos but also by putting on multiple hats to give you numerous options.
Comprehensive Features
While most video making software focus on a specific area, Movavi Video Suite breaks the mold and really does it all. Within its deceptively simple exterior you'll find everything you need to record, edit, convert and more.
Some of the more prominent features that it sports include those that will let you:
Utilize video from various sources including smartphones, digital cameras and other devices as well as video files in various formats.
Record video directly from your screen with screen capture or by grabbing footage from a webcam.
Create a video slideshow from images and customize its appearance.
Digitize video from analog sources such as VHS tapes or TV tuners.
Cut and combine segments of video to remove unwanted segments or merge clips in the sequence you desire to form a longer video.
Enhance the video quality while also fixing common problems such as shaky, blurry, pixelated or interlaced video.
Apply numerous special effects, filters or stylish animated transitions to your video to give it some style and transform its visual appearance.
Add and regulate multiple audio tracks to include background music, voiceovers or sound effects.
Convert video, audio and image files between hundreds of different formats or optimize them automatically for specific devices and platforms with the presets built-in to the software.
Accessible Approach
Although the feature list alone is undoubtedly fairly impressive – the true strength of Movavi Video Suite lies in the fact that it is hands down the easiest video maker around. It has an accessible and intuitive approach that is designed to allow anyone and everyone to benefit from its powerful features – regardless of their experience (or inexperience).
In other words, even if you have never before recorded, edited or created videos – Movavi Video Suite will let you start doing so in just a few minutes. Rather than having to go over a thick manual or try to learn how to use the software from tutorials, being able to just jump right into the thick of things and start creating videos is definitely going to feel like a breath of fresh air.