The digital revolution has made it easier than ever to work from home or other remote locations, but professionals who hit the road with their computers in tow also face certain health and security risks that might be avoided if they were based in an office.
From the ergonomic issues that are caused by inappropriate work environments to the dangers of a lost device, remote workers need to take clear steps to guard against such externalities – but few such workers are made aware of the risks, lack of awareness can prevent them from taking appropriate precautions.
Bodily Risk: Ergonomics On The Road
One of the biggest problems for individuals working remotely is the physical setup of their workspace. Particularly when traveling, remote professionals will often settle in anywhere they can find a good internet connection. This might be a café where the tables are the wrong height or it could be a hotel bed with no table in sight, never mind appropriate back support. This can cause considerable back, neck and even arm pain. Poorly designed workspaces can ultimately lead to significant work-related injuries.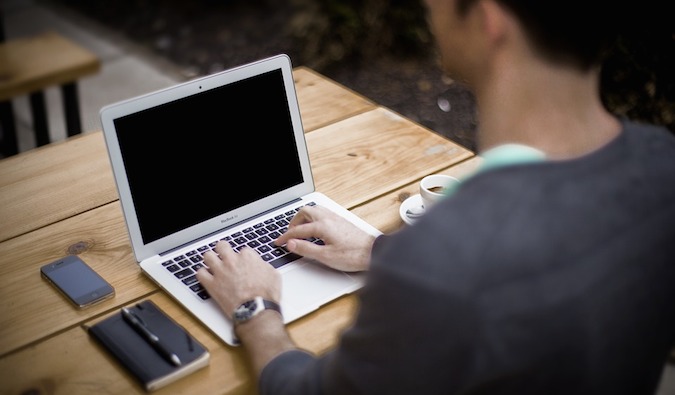 The same goes for attempts to work on planes or trains on the way to a conference. Many people wait until the last minute to complete conference-related tasks and will work to quickly churn out a last minute presentation using the in-flight wifi – but anyone who has ever been on a plane knows that getting comfortable is a near impossibility, especially in coach.
Scrunching your body up over the computer is a terrible idea from an ergonomic perspective. Instead of trying to cram in a little work, it would be in the workers' best interest to invest in a quality travel pillow to prevent worsening their discomfort.
Security Struggles: Protecting Your Work
From a security perspective, remote workers also run the risk of losing a device or picking up a virus through an unprotected internet collection while on the road, so it can be safest to travel with a stripped down laptop, rather than your usual device. Passing through security can also result in problems, as it's one of the most common places for items to be left behind. Always make sure you haven't left anything on the conveyor belt when shifting items in the security line.
Starter Solutions: Improving Your Working Environment
If you work remotely, there are a number of things you can do to make your work environment more suitable and reduce your risk of injury or data loss. One of the most important things you can do is to set up a workstation at home that meets your physical needs. Get a nice chair and a desk that sits at an appropriate height to avoid wrist or shoulder strain. Having a comfortable place to work at home can do wonders for common computer-related injuries such as back and neck strain and carpal tunnel syndrome.
Another thing you should do if you work from coffee shops or travel a lot is assess what problems you typically encounter in your physical environment. Are the tables too low? Consider investing in a folding tabletop that you can use to reposition your computer. It can be a pain to carry around extra items in addition to what you need for work but it's less of a pain than a physical injury.
As for data security, in addition to traveling with a more stripped down or alternate version of your device, you might ask your employer to provide you with a travel phone or computer for when you're on the road. A subscription to a cloud-based backup service for when you have an internet connection, plus backups stored on an external hard drive are also valuable add-ons for remote workers.
Seeking Support: Ergonomists in the Office
Finally, if you're directly employed by a company and not working as a contractor, you may want to ask your supervisor about meeting with an ergonomist to determine what type of work environment would be best for you as an individual. An ergonomist can advise you on what type and height of chair is best suited to your body and how your desk should be set up. They may also be able to give you advice on how to reduce strain on your body when traveling.
Working remotely is a thoroughly modern concept and it offers workers a greater degree of freedom than ever before, that doesn't mean you should be lounging on your couch with your laptop on your knees. Though you may not be in the office, it's still important to have a physical workspace that supports your body appropriately.
The couch or bed may seem comfortable at first but it can quickly come to plague your body by causing serious misalignment, the worst enemy of those who spend their days at a computer.
This blog post was written and supplied on behalf of Souters, provider of Microsoft Excel training courses, London.