Scaffolding refers to a makeshift framework, which is usually around or inside a building to support its repair or construction. For the design, erection, construction, maintenance and restoration of any physical structure, scaffolding is an essential requirement regardless of whether building is a small residential home or a large bridge. The purpose behind this temporary structure is to provide safety to the workforce undertaking the construction, maintenance or repair work of a building. In addition to this, it also gives them easy access to certain areas to transport material and equipment, which under normal circumstances are or practically impossible to reach.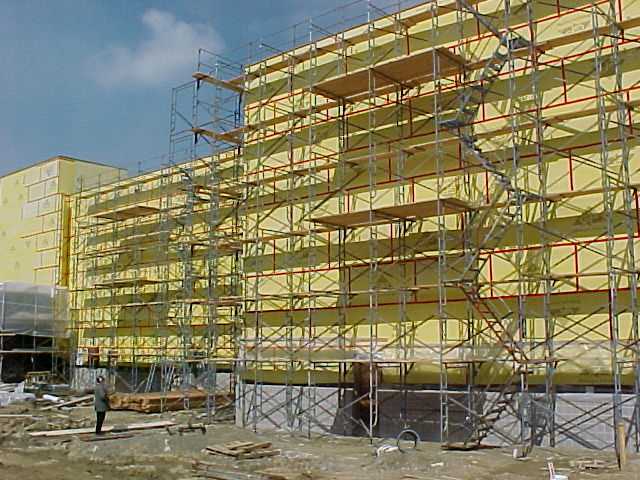 In many Western European countries, construction workers employ metal tubes and platforms for scaffolding buildings while Asian nations still relay on bamboo. In general, civil engineers and construction workers employ five scaffold types to build or repair any kind of physical structure.  These are:
Self –Supporting Scaffolding: If construction workers need to reach the top level any building, this is the most common scaffolding type they employ. If the scaffolding structure has to take extra weight, then it is essential to provide addition support to this structure. In the construction industry, this is the easiest, cost-effective and safest forms of scaffolding to use.
Suspension Scaffolding: In this case, workers suspend this scaffolding type from a tall structure or roof when it is difficult to construct a base. They use it to gain access to the higher levels of a building, which is not possible from the ground. Window cleaners often use this particular form of scaffold type to remove dirt and strains from windows. This is the most common category ofscaffold types that workers use when they need to repair the upper areas of a building under construction.
Rolling Scaffolding: This is similar to self-supporting scaffolding but this framework has caster wheels at its base that allow construction workers to move the structure to the appropriate place without the need to dismantle and reconstruct it. In addition to this, these workers can lock the wheels when structure reaches its destination so that they may proceed with their construction or maintenance work.
Aerial Lifts: Most constructing workers refer to these scaffolding structures as aerial platforms and are vehicle-mounted. They usually come with rotating boom that permit worker to have access to the upper areas of a building under construction to enable them to do their job.
Specialty Scaffolding: This form of scaffolding can support its own weight in additional to four times the load it is intended to carry. This type of scaffolding also includes:
A roof bracket scaffold;
Pump jack scaffold;
Ladder jack scaffold;
Window jack scaffold;
Trestle ladder scaffold; and
Carpenter form scaffold.
When buying or renting any of the five scaffold types, civil engineers and building owners need to ensure they deal with manufactures that have a good reputation in the market of supplying quality products. They are one who will follow the specific measurements of various scaffolding material to make sure they function perfectly under any conditions.